The Kirby Has Landed
UGA Coach Smart swoops onto campus to visit football prospect Tobe Umerah
Wade Snow, Gazebo Sports Writer
January 27, 2017
Before you could see it, you could hear it.
The helicopter flew over the tops of the trees, landing on the 50-yard-line of the football field as more than 100 students who were lucky enough to get out of class squealed with delight.
It touched down on the Stratford star.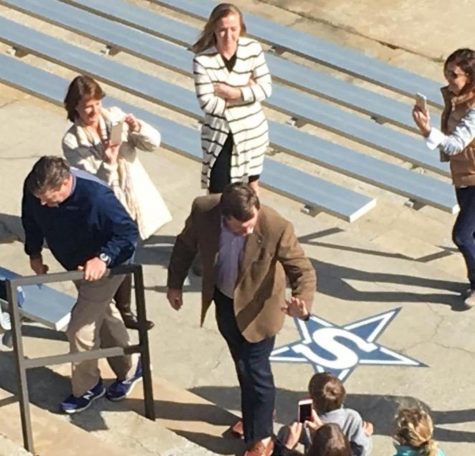 Out stepped University of Georgia head football coach Kirby Smart, royalty of sorts in the state of Georgia, to talk to highly touted recruit Tobe Umerah, a junior defensive standout at Stratford. Smart was met by Eagles assistant coach Cater Pierce.
In what has been a whirlwind week of recruiting for Umerah. Smart's visit Friday was the cherry on top. In the last two weeks alone, Umerah has received visits from Stanford defensive coordinator Lance Anderson, Virginia assistant Kelly Popinga, Duke head coach David Cutliffe, Auburn defensive coordinator Kevin Steele, Wisconsin head coach Paul Chryst, and Georgia Tech linebackers coach Andy McCollum, as well as Smart.
"It feels nice to know you're wanted," said Umerah on all of the recent attention.
"I'm not a guy who likes attention but it was a good day for sure," said Umerah on his big day. "Getting to talk to the head coach was a real honor."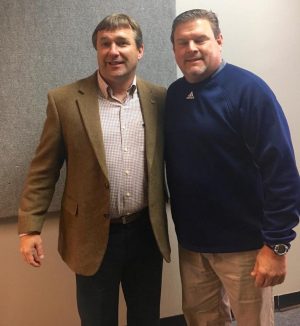 It was also a thrill for Stratford biology teacher Cason Wilkin, who has been friends with Smart since her college days at the University of Georgia. Her husband, Robert, graduated from Bainbridge High School with Smart.
"I just want people to know that I didn't just run up and hug him," said Wilkin.
(Photos and video by Wade Snow and Nick Dorogy, Gazebo Staff Writers)