DIVERSITY AT STRATFORD: A look in the mirror
There's still work to be done but many strides have been made over the past decade
: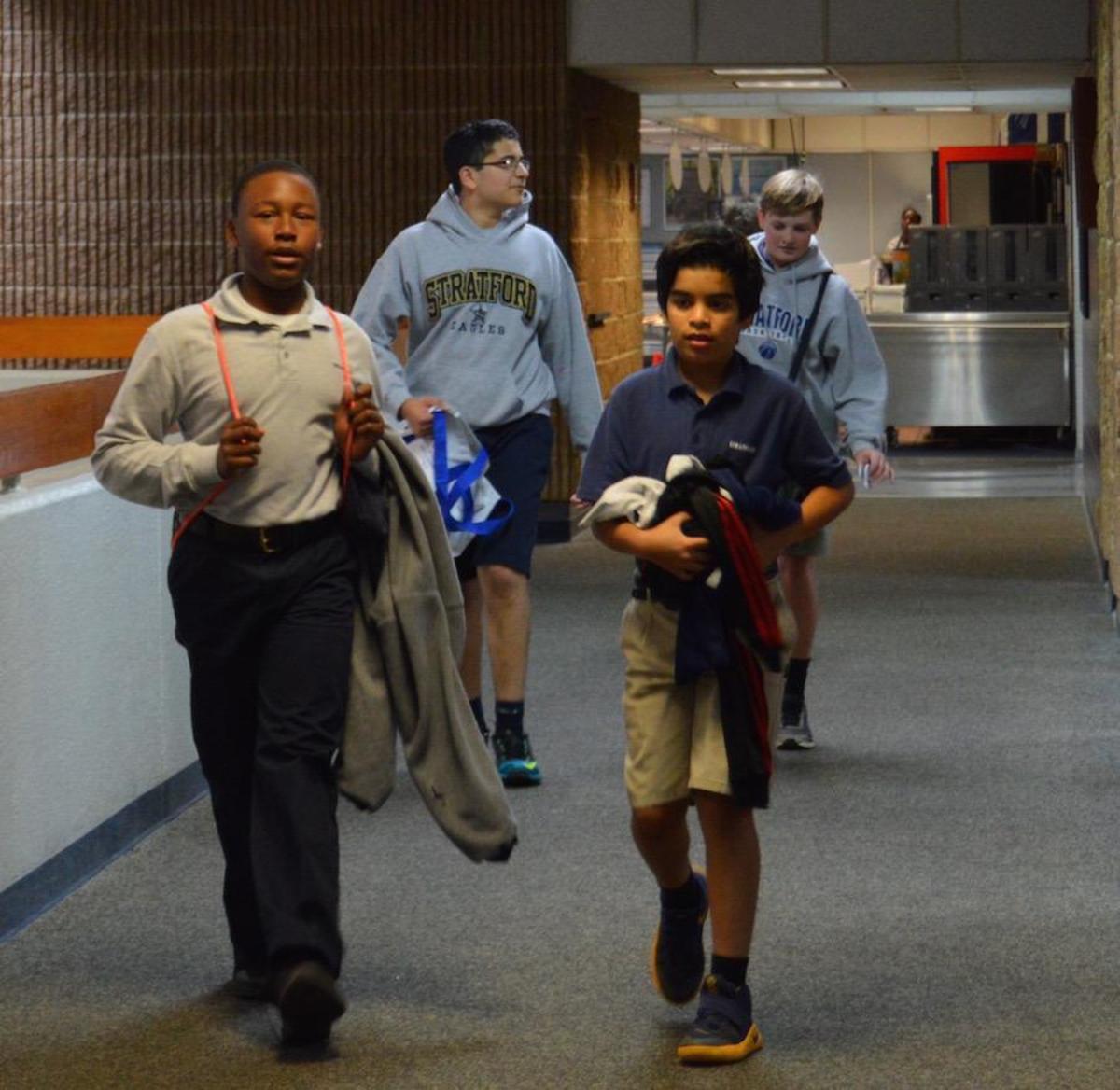 Stratford Academy has a more diverse student population than it did a decade ago.
In 2005, only 1 percent of Stratford's students were people of color. Five years later, the number had grown to 15 percent.
This year, the number is 21 percent. Approximately 180 of the 850 students at Stratford are either Asian, Middle Eastern, Hispanic or African-American. Although people of color are still in the minority, the school has become more inclusive — and is one of the more diverse public or private schools in the community.
The Gazebo interviewed five Upper School students about their experiences as people of varying backgrounds:
Faisal Odeh
Faisal Odeh is a senior. He was born in the U.S., but he is of Middle Eastern background. Faisal said he is from "different places around the world" since he moved a lot throughout his life. He has spent most of his life in the Middle East. This is his second year at Stratford.
When he first came to Stratford, he noticed during the first few weeks everyone he met was very friendly and "welcomed him with open arms."
When asked if he believes Stratford is diverse, he said, "if you compare it to other places, [it] wouldn't be."
"Considering Macon itself, Stratford is diverse," he said. "I think it does a great job of being diverse."
Li-An Tsai
Li-An Tsai, a sophomore, has an interesting background and perspective on Stratford.
This is her fourth year at Stratford. She said she has felt welcome here "to an extent." She believes she hasn't been completely welcomed, but "that's just how transferring works."
She said she sometimes feels discriminated against in the community, but it's "not always intentional." One example came  when she was at Howard High School, a public school in north Macon.
"People would call me other Asians' names, but I don't think they were trying to make me mad," she said. "I think they couldn't recognize our faces."
She added her friends sometimes make jokes about her race, but she makes jokes, too. "So that doesn't really matter," she said.
One big cultural difference she noticed when she came to Macon was that no one wore masks over their mouths when they were sick. Li-An said when people in Taiwan are sick, "(they) wear masks so (they) don't affect other people, and when other people are sick (they) still wear masks so (they) don't get infected… But apparently they don't do that here."
Another difference she noticed was the food. "We get all fried foods for lunch (at Stratford)," she said. "In Taiwan they try to make the lunch as healthy as possible."
She said she has sometimes encountered language barriers at Stratford.
"A lot of times I pronounce things wrong," she said, "When I don't know that word (in English) I pronounce it wrong and people laugh at me. But I don't really mind."
Li-An believes Stratford is "a little diverse."
"If the whole school stood on the field, and someone looked down onto the field, they would realize very easily that the majority is white," she said.
Zeyna Abdullah
Zeyna Abdullah is a freshman and in her first year at Stratford. Last year, she attended public school in Warner Robins.
Her family is from Jordan, and they came to the United States before Zeyna was born. When asked if she felt welcome when she came to Stratford, she replied "Somewhat. I mean, the whole senior mentor thing did help a lot. The first few weeks were kind of rough, but after that I did make some friends."
Zeyna said she hasn't experienced any severe discrimination at Stratford, but she has heard a few hurtful comments.
"Some people make jokes," she said. ""I  notice that it's mostly the freshmen, and it's not really (anyone) above that, but there's no really serious racial discrimination."
Since she came from public school, Zeyna said Stratford isn't as diverse as she has experienced in previous years. However, she added "although the majority is white, there's still a good amount of racial diversity."
Edlin St. Vil
Edlin St. Vil was born in Port-au-Prince, Haiti, and lived there until 2014. He has been attending Stratford since he was in sixth grade. He is now a freshman.
Edlin said in Haiti, he would have been in 11th grade this year. Since he didn't know English when he came here two years ago, he started at Stratford in sixth grade instead of seventh. After his first year here, he skipped seventh and went on to eighth,
When he was asked if he experienced any problems with language differences, Edlin said he learned English easily.
Edlin likes everyone at Stratford and has felt welcome since he's been here. He hasn't noticed any big cultural differences, and he hasn't felt discriminated against because of his background. However, he does not believe Stratford is diverse.
Zainab Siddiqui
Zainab Siddiqui is a senior at Stratford. She's been here since kindergarten, or as she put it, "as long as [she] can remember."
Zainab's parents were born in Pakistan, but since they moved around a lot when they were young, they spent a lot of time in the Middle East as well.
Zainab has always felt welcome at Stratford. "I have always interacted with everyone, and I found my friends… I've never felt unwelcome," she said.
When asked about discrimination at Stratford, she said, "There are a few people here and there that every now and then have a comment or two that makes everyone stop and think 'What? Why'd you say that?'"
She added, "There are people, not necessarily at Stratford, but there are people in Macon that assume that I wasn't born here because I'm brown. But these things are just part of life."
Zainab said although she does some things differently, like wearing leggings and long pants, it "doesn't really distinguish [her] much from Stratford culture."
According to Zainab, Stratford is very diverse.
"One of the reasons I feel welcome here is because of the diversity," she said. "Compared to other schools in our area, we're definitely more diverse, and the fact that we had the (school-wide inclusivity assembly in January) like we did earlier helps. Because we have more diversity, we're going to come into contact with more problems. That's just part of it."