Gazebo Photo by Kenzie Muenzer
When I walked into Room 129, doors began to open
Senior Carly Wanna reflects on life on The Gazebo
My eighth-grade homeroom teacher, Mr. Dewayne Lawson, once told me journalism was a lot of work.
Despite my internal desires to take a journalism class, the petrified, middle-school me decided to take Acting and Directing instead.
It wasn't until sophomore year of high school before I joined what would inevitably be the activity I would care the most about.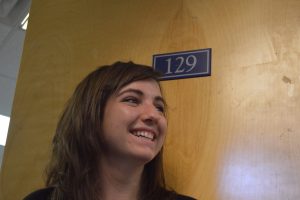 When I walked into Room 129, I immediately flocked toward the corner, huddled with my sophomore friends, Megan Wimberly and Maddi Matassarin, so we could discuss all the gossip. We soon realized that some of our "gossip" was actually school-related news.
As a new member of the staff, I published the first story: a gallery of the annual Honor Code signing. I received the assignment because absolutely nobody else volunteered. Nobody.
I quickly realized why. I was a baby-face 15-year-old, and I had to walk in front of the entire auditorium with a bulky camera obnoxiously clicking photos. I repeatedly looked pleadingly over my shoulder to Mr. Chris Loomis, former journalism and U.S. history teacher, who kept mouthing "get closer to the stage" at me.
Rolling my eyes and biting my tongue, I reluctantly did my job despite wanting nothing more than to disappear into the mass of red chairs.
However, it wasn't long before I became adjusted to my role as one of the schools "journalists." That title encompassed far more than I ever imagined. Of course it included written stories, but it also required photos of sporting events, interviews (comfortable ones with friends and awkward ones with daunting upperclassmen), and technological proficiency– which I still cannot claim.
The fastest lesson I learned was how easily an article could ruffle feathers. One of my first stories covered the newest restrictions on skirt length. I interviewed Upper School Principal Mrs. Margaret Brogdon and other members of the administration for the story. After the piece ran, it actually received a follow-up letter from an alumnus who disagreed with one of Mrs. Brogdon's comments. Despite low readership, it became obvious the impact any printed word could have.
Going into junior year, I eagerly signed up again for the same class, although this time with a different teacher. Loomis left the school, leaving the vacant position for Mr. Ed Grisamore, a long-time columnist for The Macon Telegraph.  
The class changed greatly from sophomore to junior year. Maybe it was the new teacher, who quickly became more of a "mentor" to me. Maybe it was the completely new staff or my promotion to one of the editors. Maybe I just realized I truly cared about the Stratford Gazebo.
Regardless, I finally felt like I had a "thing." You know how high schoolers usually have that? That one activity they participate in the most? What people think of when they think of that person?
Well, finally, journalism was mine.
I think of that year as Gazebo 2.0 The new staff published content daily, and we tackled all sorts of media: video, new types of photography, opinion pieces, etc. As a staff, we collectively learned more about technology and were given opportunities to voice our opinions on everything from individual activities to major school issues.  I credit Mr. Grisamore with more of those changes.
However, I received the opportunity to tackle much more than just Stratford news. With the help of Mr. Grisamore, I started interviewing members of Carlyle Place, a continuing care retirement community on Zebulon Road. The administration of Carlyle found out about my interviews and made a deal with me. Soon, other Stratford students and I were taking down oral histories of residents and completing page long write-ups concerning their lives. We submitted these interviews to the Carlyle manager to be used for marketing, browsing for other residents, and permanent records of a person's history.
The best part about journalism to me is the endless opportunities. Mr. Grisamore helped me yet AGAIN by setting me up with The Telegraph to intern for them for the summer. I even got paid… It was only $10 a story but still. If you seem your name in print in a real publication, you don't really care about compensation. You're just all too excited to be able to say you've been "published." They could have paid me in hugs for all I cared.
Like most activities, a person can only expect to get out as much as they put into journalism. For a lot of people it's merely an elective, which is fine. But to me, it's the part of the day I look forward to the most. It has led me to become more confident, given me insight on how this school runs, made me apt in an entirely different writing style, and given me the chance to get more active in the community.
Seeing as I am a journalism nerd, one of my heroes is Bob Woodward, the investigative reporter who broke the Watergate Scandal in the Washington Post. I toured Yale a few weeks ago and sat in on a journalism class taught by none other than "Professor" Woodward – a living legend in my mind. I walked into the room 10 minutes before class started and introduced myself. When the class ended, I anxiously waited to shake the legend's hand.
"Thank you so much for letting me sit in on your class."
"Oh certainly," said Woodward, who was surprisingly shorter than I'd thought, but maybe that's just because he is basically a god to me. "I just hope it wasn't too boring."
"Oh no not at all." I had responded a little too quickly. "It was awesome." I said that a little too enthusiastically.
But my excitement was genuine. Because after three years of working on a student newspaper, I got to meet somebody I admired so, so much. The amazing part is that I never would have even looked up to him without everything.
I met him because of my photo duty during Honor Council and my skirt length story, because of Mr. Grisamore and all of the people who keep the class entertaining. Because of The Gazebo and all of its quirks – the "Carlizzi" advice column, the sports podcasts, the cartoons, our videos.
Because without all of these things, I wouldn't have a hero because I'm not sure I'd have a passion. It doesn't matter whether I want a career in journalism (I probably don't). What matters is that I did it to begin with. I interviewed fascinating students, worked with exceptional people, and had a "thing" to cling onto whenever the day felt fuzzy.
At Monday morning assemblies, I have often asked you to read the Gazebo. But now, I'm asking you to consider writing for it.
As my eighth grade teacher said, it can be a lot of work. But trust me when I say it's worth it.