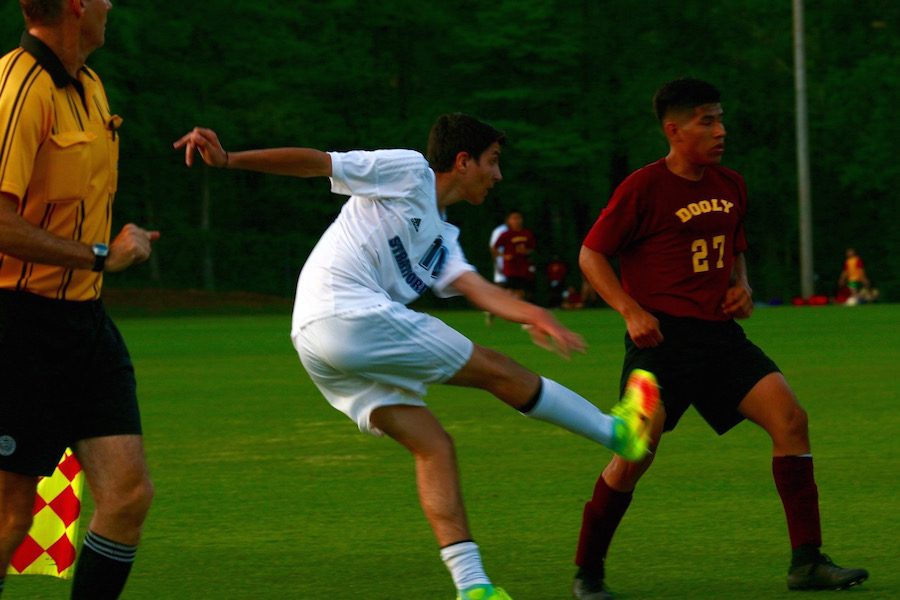 Gazebo Photo by Stratford Sports Information
Iakovidis is 'Greek Freak' for Eagles
Junior goes from unknown to rising star on soccer field
George Iakovidis came to Stratford at the beginning of last school year, the start of his sophomore year.
He didn't know anybody at the school, and nobody knew him. He was an unknown quantity on the soccer field.
That didn't last long, however. From the first day of offseason pick-up games for soccer, the new Greek kid began to make his name known.
Simply known as "Iak" to those on the soccer team, it became clear George Iakovidis was going to be a force on the field.
"As soon as he stepped on the field that first day, embarrassing people, we knew we had just acquired a player that was really going to contribute to our team and the program," said senior defender Robert Stone.
Iakovidis was born in Greece, and spends his summers there, but he moved to Macon from Ohio before his sophomore year.
As a sophomore, Iakovidis played in the central midfield, providing a sense of composure and experience to the team. In his junior season, he has played a combination of midfield and goal keeper for the Eagles. He has also played for the local Southern Alliance Futbol Club team as a goal keeper.
"Stratford has been a very welcoming place from my first day here," said Iakovidis. "My favorite part has definitely been soccer. I am glad I have been able to contribute to the team these last two seasons, and I have made some great friends along the way."
After two strong seasons for the Stratford boys team, Iakovidis hopes to keep it going into his senior year. He is hopeful that some collegiate soccer opportunities will come his way.
"A chance to play college soccer, man that would be a dream come true," said Iakovidis. "I've worked hard so if that opportunity presents itself, I will be very grateful."