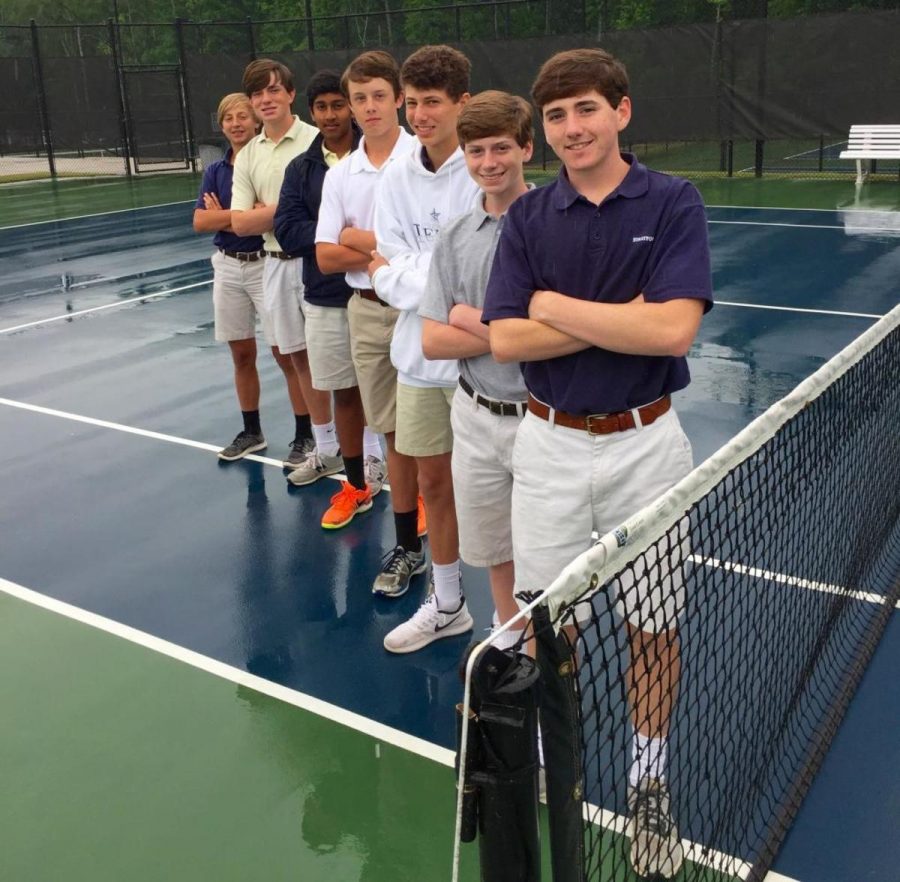 Nick Dorogy
For the third time in four years, the Stratford boys tennis team — and junior Mark Barrow — will be moving on to the state championship match.
While Mark, a starting member of the varsity tennis team since his eighth grade year, is looking to complete his undefeated season in the state tournament, a squad of young freshmen are relishing their opportunity to play for the title.
However, this year, things have been different for Mark. With the addition of four new starting freshmen, Mark has also welcomed younger brother, Samuel, to the varsity squad.
"I'm really glad (Samuel) is here, but I've been leading a pack of rowdy freshmen, so I don't really focus on him," Mark said.  
Mark, starting as the No.1  seed, and Samuel, starting the No. 2 seed, are both undefeated. this season and have been keys in Stratford's undefeated regular season (15-0) and top seed in the area going into the state tournament.
"With Mark as number one and Samuel taking the two spot, the team is really dynamic," said head tennis coach Jaime Kaplan. "They have both been very good for us this year."
In fact, since the tennis team only needs to win three of the five matches against an opponent to clinch a win, Kaplan has made sure to play the Barrow brothers first in order to gain an early 2-0 lead.
With the loss of two key seniors from last year, Mark was asked to take on a new role filling their role on the court and in the locker room. 
Fortunately, Mark has done just that.
Not only has he played outstanding individually, but he has also helped lead two freshmen to undefeated seasons. Younger brother Samuel and No. 3 Daniel Cohen have won every match they have played this year and will be looking to follow Mark's example in their state final matchup against Mount Paran on Saturday in Atlanta.
There are two freshmen playing doubles — Carter Eddlemon and David Grant — teamed with juniors Greg Sutton and Akshay Ranabhotu.
While they might not have any pre-game rituals, the Barrow brothers do have a strong connection and trust for one another.
"The other day, Mark got in a disagreement with his opponent — the first time I have ever seen him do that. It was something very different for Mark because that doesn't usually happen for him. Samuel's feathers got a little ruffled by that because his teammate was getting attacked. I did see Samuel getting fired up about his team mate, but I could also tell he was getting mad because that was his brother and he didn't like that," Kaplan recalled.  
Samuel was not afraid to give his two cents on the situation as he chirped in to defend his brother.
"I just didn't like the situation so I said something. Mark has been a big part of tennis for me so it was important," Samuel said.
The tennis team plays Mount Paran at the Clayton County International Park Tennis Center, and the Eagles are hoping to add another state championship to the trophy case.