The Three B's: Bailey, Battcher and Baseball
Stratford inducts its 2017 Class for Athletic Hall of Fame at Friday ceremony
October 7, 2017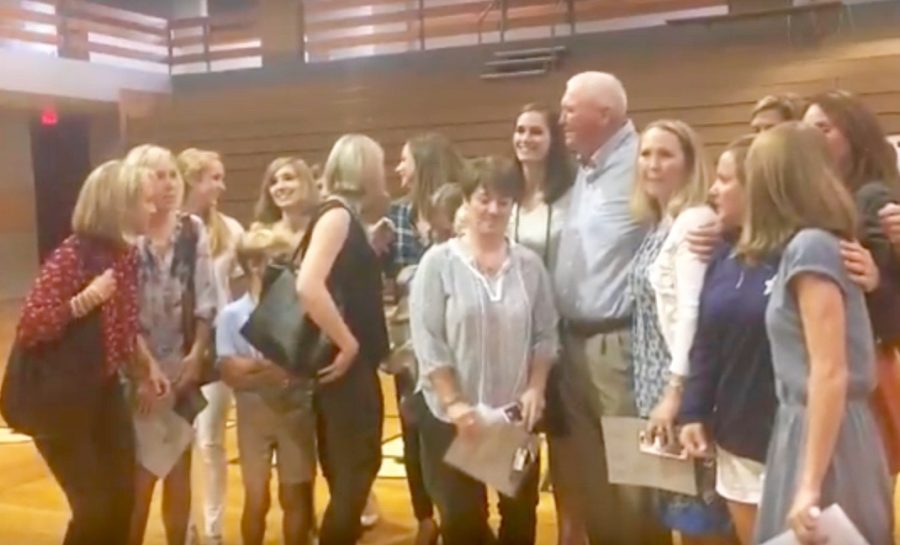 Gazebo Photo by Knox Cleveland
Coach David Bailey, Mr. Jeff Battcher and the varsity baseball teams of 1972-74 were inducted into the Stratford Athletic Hall of Fame in a ceremony at The Grady on Friday morning.
Coach Bailey, who has been Stratford's head girls track coach since 1989, has won eight state titles and produced over 40 individual track champions. More than a dozen of his former athletes attended the ceremony.
Mr. Battcher was a three-sport athlete at Stratford, where he graduated in 1979. He played in college at the University of Tennessee-Chattanooga and Utah. He was a sports broadcaster for WGXA-TV before going onto a successful career in media relations at BellSouth and Delta Airlines.
The Stratford baseball teams, coached by Bubber Adams, won three consecutive state titles when the school didn't have a baseball field. The Eagles won 63 of their 68 games during that time, including nine no-hitters by the pitching staff. Stratford Athletic Director and Head Football Coach Mark Farriba was a member of those teams and spoke on behalf of Coach Adams at the ceremony.