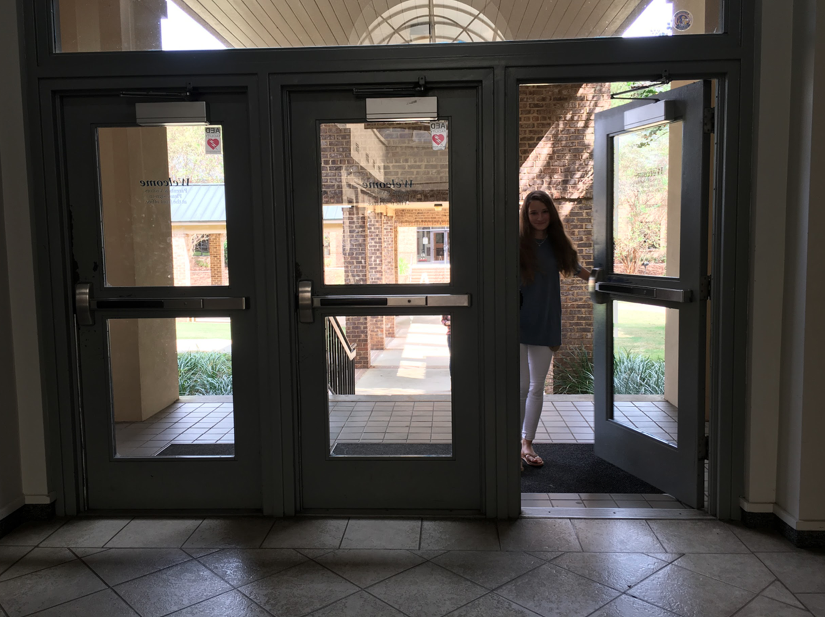 Gazebo Photo by Madeline Davis
The unluckiest of days
Superstitions are everywhere, especially though the doors of Stratford on Friday the 13th
October 13, 2017
Since today is Friday the 13th, we are keeping our superstitions in the back of our minds to avoid an unlucky day.
Like any other day, though, Stratford Academy students will continue to avoid the middle door in the front entrance of the school.
Sophomore Price Lee has a lucky pair of fuzzy green socks with a grinch on them that she wears before volleyball games
Senior Emily Sheridan is superstitious about full moons and black cats.
Here are a few other superstitions from Stratford students and faculty.
"I always wear the same headband before cross country meets because I think it's good luck." – Ellie Peterson
"I don't walk through the middle door." – Greg Sutton (and Ellie Peterson)
"I will never go through the middle door because it is said to be bad luck." — Kendall Simmons
"I eat certain foods on New Year's because they symbolize things. Like collard greens bring in money." – Anaya Thomas
"I knock on wood, usually." – Mrs. Hollie Wangerin
"I believe that certain gifts from other people bring good luck. I have a pink bracelet from my mom since it's Breast Cancer Awareness Month, and a bracelet from my dad that I've worn since the first football game." – Jourdain Irvin
"Sometimes I say something and knock on wood for good luck or something like that." — Vivian Duong