Five named as National Merit Scholarship recipients
Tejas Athni named semifinalist, national merit scholar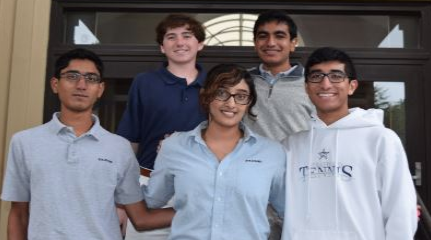 The National Merit Scholarship is a world-renowned award given to high school students. A student can become a recipient if they score in the first percentile on the PSAT their junior year.
Stratford has five seniors who are recipients of this scholarship: Tejas Athni, Sean Shivdat, Mark Barrow, Sahan Vangala, and Manasa Vemuri.
Tejas was named a semifinalist. Sean, Mark, Sahan, and Manasa have been chosen as commended scholars.
"The National Merit Scholarship is provided by the college board — that's the organization that writes and gives the PSAT, and every year students that take the PSAT, which is the Pre-SAT, in 11th grade, and are competing with other students across the nation for high enough scores to qualify as National Merit Semifinalists,'' said Upper School Principal Mrs. Margaret Brogdon.
Mrs. Brogdon said the semifinalist (Tejas Athni) is essentially a national merit scholar.  
"If the college you've chosen to go to gives national merit scholarship money, and most of them do, then you can get money,'' she said. "It's not an extraordinary amount of money — it's about $2,000 for the year. But the prestige that comes with being recognized as a National Merit semi-finalist is so great that it really is a big boon to college acceptances."
Leave a Comment