Night Swim
Swim team practices after sun goes down

For most athletes at Stratford, practice begins promptly after school at 4 p.m. Whether it's one or two hours, the students are usually home before dark.
Well, what would the Weagles be if we didn't do things differently?
Coach Travis Morrison schedules our practices to start at 7:30 p.m. The swimmers have different opinions whether this is better than after-school practice.
"I like swimming later in the night because I can nap after school and occasionally do my homework,'' said junior Molly Groves.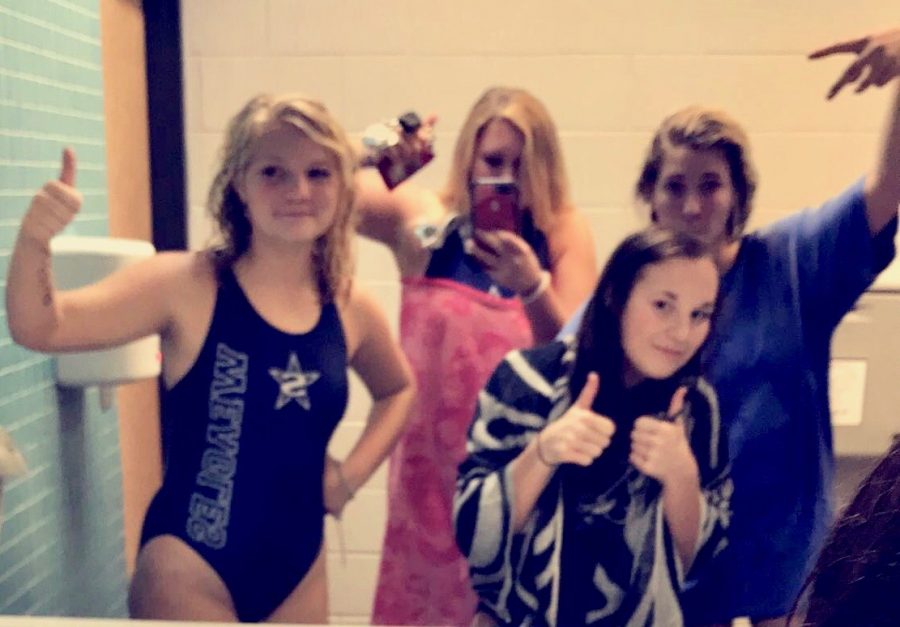 This differs from another junior swimmer, Marta Stevenson.
"I like practicing my other sports in the afternoon because this one doesn't end until 8:45,  and that is past my bedtime,'' she said.
In my opinion, later practices mean fewer people in attendance. By that time of the day, most students have spent the afternoon doing homework and other tiring things.
I personally have too much time to think about how much we will be swimming that particular night. Sometimes my mind gets the best of me, and I talk myself out of going.
However, this is a team sport, which means if members miss practice the rest of the team gets to make up the laps they missed.
Coach Morrison believes we are a team and without each other we will not succeed. I believe this "rule of swim"  is one of the reasons this team is so close.  
Our practices are starting to pay off. In our recent meet at Harris County, Stratford overall came in second out of 12 teams. This is huge for our swim team because we went against some difficult competition.
A night practice has always been something the Weagles talk about and wonder if we enjoy.
Then again, any time is better than the early morning practices at 7 a.m.
Nothing like diving into a cold pool to start your day.
Leave a Comment
About the Contributor
Karen Jarrard, Co-Editor
GRADE: Senior

YEARS ON GAZEBO: Fourth year

MY FAVORITE THINGS: Netflix, my friends, horses, my sisters, and cooking

SIX-WORD MEMOIR: Hanging...