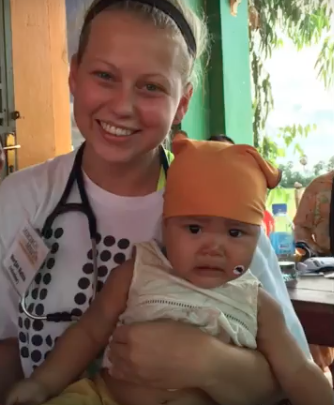 Morgan Mathis
Morgan Mathis has attended Stratford since preschool.
She is co-valedictorian of the Class of 2018, with Tejas Athni. She has participated in Drama Club, Beta Club, Key Club, Pep Club, and Ecology Club. She plays softball, lacrosse, and is very involved in theatre.
Her favorite teachers at Stratford have been Mr. Brian Wells, Mrs. Mary Beth Gumbart, and Dr. Frank Katz.
She said her theatre classes have  "helped me grow as a person and figure out who I am."  
For her senior project, she is working with the social worker at Pine Pointe Hospice and will go to the psychiatric ER on the weekends.
Morgan's favorite thing to do in her free time is to is play with her cats, Tom and Bandit. She also likes to go shopping.
Morgan's advice to rising seniors is to start college applications in the summer so they will be done early.
"That's a stress reliever if you can get that done," she said.
She is looking forward to the freedom of college. It will Morgan's first time to be on her own and she wants to see how she can handle it.
Morgan is planning on attending Mercer University for the medical school's Special Consideration Program (SCP)  .