The Un-Twins
Freshmen Maddie and Will Fackler don't share a birthday, no matter what people might think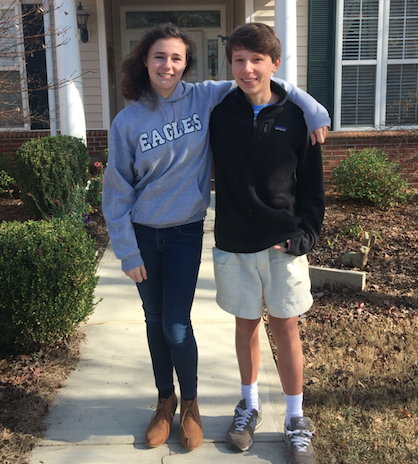 Ever since my brother and I have been in the same grade, curious people always ask the same question.
"Are you twins?"
Usually, I would answer with a laugh and an explanation about how my brother was actually a year and a half older than I was, but I had instead just skipped up a grade. Will, on the other hand would answer politely, but would be actually just be privately offended.
Coincidentally, this grade-skipping happened while he was being homeschooled, so he could have more freedom with his schedule to practice tennis. His former grade got used to me, and when he returned in the seventh grade, everyone assumed we were just the same age.
I honestly don't blame them because it's a really weird situation, plus I was little bit taller than him at that stage, so we looked the same age. Sadly, he's now taller than me. Sometimes though, people even assume I'm the older sibling. At places like summer camp, where there was no one from home, I'd just tell them we were twins to avoid explaining the complicated and weird coincidences that made our situation possible.
Whenever we introduce ourselves and the question is inevitably asked, I see Will die a little inside. I just think that it's funny, as he is 18 months older. However, we are more like twins than we should be. We share some of the same classes, have the same teachers, help each other on assignments, and get along relatively well.
My sister, graduating senior Emily Fackler, has even taken to calling us twins.
Concerning extracurriculars, we stay as separate as possible. Will mainly does tennis and I do swimming and theater. Will especially does not want us to be more similar than we already are. Bottom line, we are not twins, even if we seem like it.
If you meet Will, refer to me as his "younger sister" and you'll get along fine. I, personally, really don't care.