The making of a cheerleader
Gymnastics, dance helped Jansyn Stephens on the way to becoming a JV cheerleader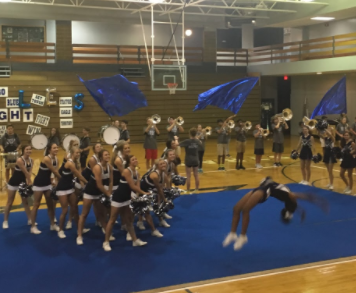 I had been a gymnast almost my entire life. I practiced every day of the week, all summer, for three hours a day. I continued this schedule throughout the school year. I even had competitions every weekend.
As you can probably tell, I love gymnastics. I also took dance classes to help improve my floor routines. However, when I got to sixth grade, my mom had decided gymnastics was becoming a lot to handle and that I should take a break to focus on my schoolwork.
So that's what I did, but I continued in dance because that wasn't as much work. I had stopped gymnastics cold turkey and missed it dearly. Unfortunately, this "break" from gymnastics never ended. I never went back to the sport. But, as a time-filler, I became invested in dance. I practiced for fun for one year, then joined a classical ballet studio and continued in that for two years, participating in the Nutcracker, summer camps, and more.
My eighth grade year, I decided to try competition dance, to widen my abilities as a dancer. I also thought it would be fun. I took summer classes, auditioned, and joined the dance team. This had started out to be extremely fun, but balancing six classes a week at one studio, and two at another, was a lot more difficult than I thought.
I believe the stress is what pushed me to quit dance. I had fallen out of love with the sport and decided to stop. For the first time ever, I was unoccupied by sports, aside from tennis and track.
"
I attended the clinic, practiced, and prepared myself for audition day. I remember being scared, but excited, like the feeling you get before a big drop on a rollercoaster."
— Jansyn Stephens
That same year, I decided to try out to be a Stratford cheerleader. It was in fact not my first time cheering for Stratford. I cheered throughout lower school, but quit in middle school from simply lack of time.
I was excited to have the opportunity to be on the team again with all of my friends and, with my experience, was fairly confident. Later that year, I attended the clinic, practiced, and prepared myself for audition day. I remember being scared, but excited, like the feeling you get before a big drop on a rollercoaster.
On audition day, we learned new material to try out with along with the material we had already gotten to test our skills and ability to learn fast. Everyone auditioning was instructed to wait in the trophy room next to the gym, and we were called out two by two. When my partner and I were called, we got up, spirited out, and did the cheers to our best ability.
I felt amazing.  After we had finished we were allowed to leave and go home, but instead I went to lunch with two of my friends. We ate and talked about the tryout, how we felt about it, and then went home.
That night, I think I reloaded the Stratford cheer team list 1,000 times before the new list appeared. I read the names one by one down the list until I got to the bottom. I had made the team.
I was so excited and called my friends to share the excitement. That year was extremely fun. We had attended cheer camp at UGA, taught a mini-cheer camp at Stratford, and overall had a great season.
That's why I decided to try out again this year.  I went through the whole tryout process, made the team, and even became JV cheer co-captain.
So far this year, we have had cheer summer camp with the Mercer cheerleaders, taught mini-cheer camp, performed at Eagle Night, and have performed at the pep rally and football games.  I have fallen in love with cheer thanks to my team and amazing coaches, and can't wait for more fun experiences I will have as a Stratford Academy cheerleader.
Leave a Comment
About the Contributor
Jansyn Stephens, Writer
Grade: Sophomore

Years on Gazebo: Second year

My Favorite Things: Hanging out with friends, food, playing tennis, traveling, the beach

Six- Word...