Eagle mascot always in a 'Rush'
Senior Rush Patel has enjoyed experience inside the feathered costume
Most everybody at Stratford knows senior Rush Patel.
He has a familiar face with a friendly smile in the hallways. He is involved in many school activities, including the debate team.
But when Rush crawls into the Eagle mascot suit and the Friday night lights are on, he enjoys becoming a fun-loving, mystery man.
"Being kind of anonymous and people not knowing who it is and trying to guess who it is, I enjoy that," Rush said.
For four years, the Stratford senior has been one of The Academy's eagle mascots.( Sophomore Nathan Dummitt wore the costume last year.)
Rush first volunteered in the ninth grade when he had recently stopped playing football and the job was open.
While in the costume on Friday nights, Rush's biggest goal is to keep the crowd and student section hyped up and energized. He strives to come out every game with the same energy and tries to excite the student section.
"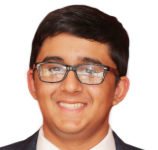 Being kind of anonymous and people not knowing who it is and trying to guess who it is, I enjoy that."
— Rush Patel
According to the school's mascot guidelines, Rush must refrain from doing anything during the games that might be unsportsmanlike. He is expected to remain  civil and respectful of the other team and student section. He tries to stay positive and promote school spirit the entire game, regardless of the situation and score.
Rush often is faced with occasional challenges. It can get hot inside the outfit, and Rush has take measures in order to keep cool — a towel and a water bottle.
He also tends to fan himself constantly, as these measures are sometimes not enough to bear the hot weather. The costume does not get smelly, however, for Rush keeps the fumes away by washing the suit regularly along with using a lot of body spray. "Old Spice," he said.
Another challenge is putting on the costume.  "It's really not that hard to put it on but when you are alone, zipping it up can be a real challenge," Rush said. He typically wears athletic shorts, a dri-fit shirt, and any shoes he already had on under the hot and heavy eagle suit.
Most of the younger kids love hugging him, but there are a few who will cry and run away. The preschoolers and lower school students love interacting with Rush and taking many pictures.
Although many of the kids kick, punch, and throw things at him he shrugs it off.
"It's all fun and games," he said, laughing.
Leave a Comment