Bullet journaling on the rise at Stratford
Students, teachers use new method to improve organization, encourage creativity and expression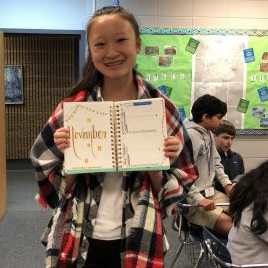 Many people begin the new year with resolutions
A great way to keep your resolutions is the new trend, Bullet Journaling. Around Stratford, there are several people who love to express themselves artistically, while being organized, with Bullet Journaling.
Eighth-grader Sophia Tang said she was introduced to it by YouTube,
"You know how you're up at 3 a.m. watching  videos" she said.
Last November, she was ranting about her stress, and inability to express herself, and middle school Spanish teacher Mrs. Nancy Gordillo gave her the first.
Mrs. Gordillo was introduced last summer. "I actually discovered it on Pinterest," Mrs. Gordillo said. She began reading, The Bullet Journal Method.
Now, she journals every day, keeping a diligent list of notes and goals, while remaining creative.
Sophia journals about three times a week.
"I write my goals, what I want achieved, and something to make life less stressful,'' she said.
Some even have a favorite place to wind down with their journaling.
"At home, in my office with all my markers and art stuff. It's all about color,'' Mrs. Gordillo said.
They both recommend it as a stress reliever to, "anyone who wants to express themselves or to anyone who wants to do a calendar." 
Freshman Rachel Toon is another student who has taken up bullet journaling. She said she found out about it, while she was getting ready for the seventh grade.
She mostly uses the bullet journal when she plans, or when she writes down or take extra notes for school. She recommends it for improving your organization skills.
Leave a Comment