Stratford Thespians to perform a "New Play"
Performances scheduled for Wednesday and Thursday in the Henry Tift Fine Arts Auditorium
Since the beginning of school, the 16-member cast of this year's One Act competition has been rehearsing and perfecting "The New Play."
Written by Elaine J. Watkins, the play is completely new and "something that no one has ever seen," according to the director, Ms. Sylvia Haynie.
The cast is comprised of Matt Newberry, Riley Davis, Grey Faulkner, Hamp Tiller, Tomi Sogade, Azeem Fazal, Maya Rubinstein, Maddie Fackler, Sarah Pyles, Joey Gadd, Alex Hall, Mimi Rader, Claire Hurt, Elinor Fenimore, Jonathan Lease, and Anna Wangerin.
The tech crew consists of Mrs. Rachel Chabot as the stage manager, Mr. Stephen O'Hara as the sound board operator, Shaw London as the light board operator, and Mason Spiegel and Dylan Yurgalavage as the Followspot operators. Ms. Laura Voss has also assisted the cast as th  music director.
The school performances of "The New Play" will take place on Wednesday and Thursday night in the Henry Tift Fine Arts Auditorium, and it is suitable for all ages. Both performances are free for Stratford students and faculty and $5 for general admission.
The play is "47 minutes and 26 seconds," Ms. Haynie announced at the Monday morning assembly. It is fun and silly, but it has some important messages.
Stratford is hosting the 1A Private Region Competition on Saturday. It is an all-day event in which eight schools from Columbus, Savannah, and Macon will come to perform their shows for three judges, and a winner will be announced that night. The winner and runner-up plays will both advance to the state competition in November.
Leave a Comment
About the Contributor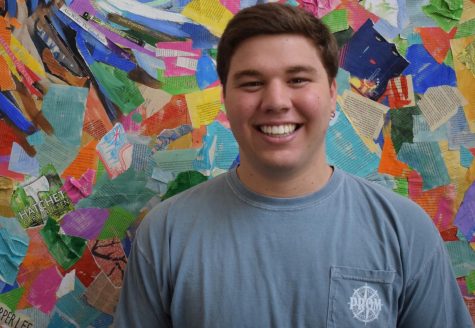 Matt Newberry, Staff Writer
Matt Newberry is a senior and has been at Stratford Academy for 14 years. He is a first-year Gazebo student and is currently a Staff Writer. Matt holds...