Beach trips have become family tradition
Every year, my family on my mom's side goes to the beach. We used to always go to Hilton Head Island, but the past few years we have been going to different places. My favorite trip was the one two years ago to Costa Rica.
The only bad thing about Costa Rica, was my oldest cousin could not come because she was in grad school, and could not make time to come. It was such a different experience in another country.
My favorite thing we did was zip line, because the zip line was over a river, and we got to see many animals. We also went to the beach a lot which was very fun. I loved trying to speak Spanish, and see if they could understand me. 
The first trip was 17 years ago, but I obviously did not go on the trips until three years later. For the first eight trips we always stayed in the same house on Hilton Head Island. On the ninth year, we went to Destin, Florida, but it was still equally as fun as the past years. 
The trip is always very chaotic with fifteen people, and sometimes more depending on who else attends. One year we had 22 people because we had the normal 15, my two step siblings, and three friends of my brother. I like when it is just the 15 of us, because this is normally the only time it is all of us. 
This past year, we went to Orange Beach, and rented two condos instead of a house. I like being all together in a house better than two separate condos because we do not get to spend as much time together. We also did not stay a full week, because my aunt was having her 50th birthday party in Atlanta, but we still had a good time. The trips keep becoming more fun because we are all getting older, and can do things without parents. 
This trip has always been one of my favorite weeks of the summer, and we normally go in the beginning of summer so it makes the start of summer really fun. I am so glad we get to go to the beach every year, and continue the tradition.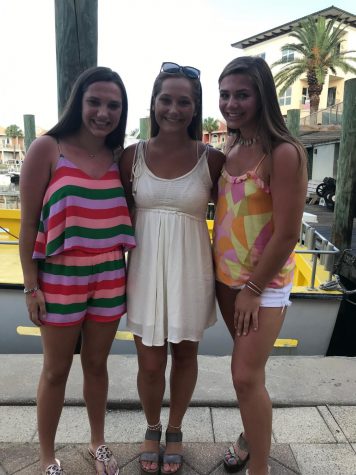 Leave a Comment
About the Contributor
Caroline Crick, Editor in Chief
GRADE: Senior

SCHOOL ACTIVITIES: VP of the Food Drive, Beta Club, Pep Club President, Lacrosse

HOBBIES/INTERESTS:  reading, sleeping 

FAVORITE...