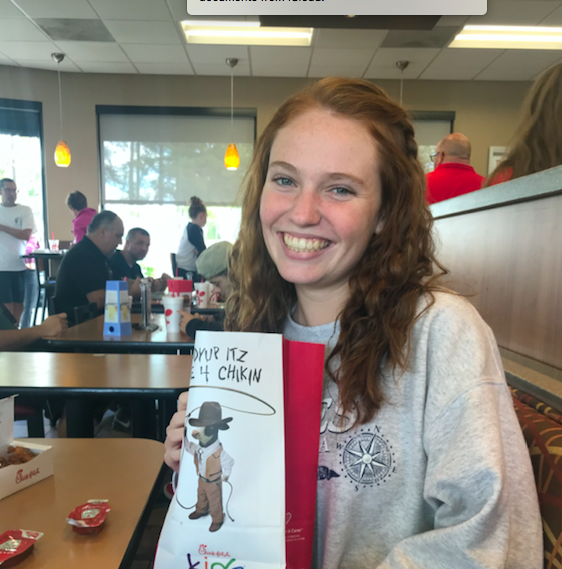 My favorite fast food restaurant is definitely Chick-fil-A. I love their chicken sandwiches and chicken minis. Their drinks have the best ice. It is so crunchy and very easy to chew. 
At Chick-fil-A, I usually will order the eight-count chicken nuggets with a side of fries and a water. Sometimes, I will order a chocolate milkshake if I feel  I deserve one (which is most of the time).
Every year after cheer tryouts I go to Chick-fil-A and order a chocolate milkshake. I don't ever get the cherry on top, I only get the whipped cream. 
This school year, I had to drive in Drivers Ed. Coach Miles Pippin would allow my partner and I to go to Chick-fil-A when we had to drive before break. It was always something to look forward to. 
Chick-fil-A has variety in the items on their menu, even though they are centered around chicken. They recently added Mac 'n Cheese to their menu, and it is delicious. 
I go to Chick-fil-A every Monday night with my friends. The workers there are always nice. They never fail to say, "My pleasure."
 The other day I went to Chick-fil-A and the cashier called me 'Madame' which I had never been called before. They always want to have the best service and I have never come encounter with a rude Chick-fil-A employee. Even when there are large crowds of people coming into the restaurant they're always so helpful. 
Chick-fil-A is also very clean. One time, I was going to the drive-thru and one of the employees was sweeping the parking lot. If that doesn't show cleanliness, then I don't know what does. 
Chick-fil-A also keeps their original values. In the beginning of the restaurant, they decided to have Sunday as a day off, even though it means losing a days worth of revenue, which can add up to a lot. I wish they were open on Sundays, but it is good they keep their traditions. 
One of my favorite things about Chick-fil-A is their commercials. They are always so sweet and heartfelt. They always put me in a good mood. 
My first memory of Chick-fil-A was when I was about 5 years old and I went to see Santa around Christmas time. After we took the picture with Santa, my parents got my sister and I a vanilla ice cream. I haven't had an ice cream from Chick-fil-A in a while because I like their milkshakes better. 
I do not know how I would live without Chick-fil-A in my life.