Transition to soccer has been life-changing
Up until my freshman year, two years ago, I had played baseball my entire life.  Then everything changed. I decided I was through with baseball and would play soccer the following year. 
Leaving a sport I had played since I was about 3 was difficult. Even though I was sick of baseball and was leaving, it was still sad.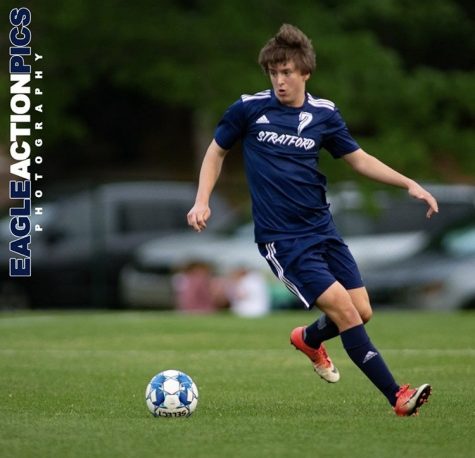 By the time fall came around and spring sports sign-ups were in full swing, I was extremely nervous. I talked to former boys soccer Coach Ian Hayley, and he gave me a very warm welcome.
Instantly, I felt like I had been on the team all along and wasn't the new kid. 
Once football had ended, and the leaves had fallen off the trees, winter workouts were set to begin. The workouts were tough, filled with long-distance running and short, fast sprints. Being the kid who had never practiced long-distance running, I struggled immensely.
The first two weeks were tough but it made me realize something very important — I had to get in shape. 
Soccer is all about running and pace and at this time I had neither of those. All winter, I worked on getting in shape and it eventually would pay off for me. 
I spent every day that winter either running on the track with the team or at home on my treadmill trying to condition myself. 
The season had finally come and I knew as a freshman who had never played before I'd be riding the bench for the most part. But I finally got my time.
In the third game of the season, in the Stratford Cup against Eagles Landing, I got subbed in off the bench. I ended up subbing in the next two games and got decent time as a freshman off the bench that season. 
My sophomore year, I worked even harder and by midseason I had earned a starting spot on the team and was absolutely stoked. 
Last year, we were just short of the playoffs but this year, as a junior, I know the whole team will be striving to change that outcome under our new coach, Coach Iain Jones. 
Through all the ups and downs, I'm so glad that I switched to soccer and I'm looking forward to another season. 
Leave a Comment
About the Contributor
Knox Cleveland, Minister of Fun
NAME: Knox Cleveland

STAFF POSITION: Minister of Fun

GRADE: Senior

SCHOOL ACTIVITIES: Soccer, Football, Key Club, Pep Club, Peer Mentor

HOBBIES/INTERESTS:...