Even the trumpets have to wear masks
September 6, 2020
In the Stratford marching band, even the instruments have to wear masks.
This year's band and color guard have taken measures to  students are as safe as they can be while having fun.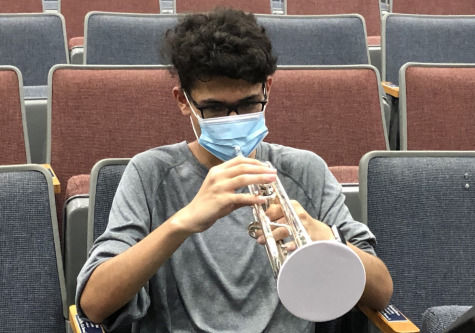 Ms. Laura Voss, Stratford's band director, explained just how different the band was this year, and how they are taking sanitation and social distancing very seriously. Ms. Voss is following the guidelines by the Center for Disease Control, Georgia Music Educators Association and others.
 "If you're indoors, you can only play indoors for 30 minutes,'' Ms. Voss said. "And then you have to leave the room for at least 20 minutes to let the air completely recirculate."
 Band students are not the only ones wearing masks. It's their instruments, too. 
"You have to wear bell covers which are like masks that go on the ends of the instruments and then the people who are blowing through instruments also have to wear a surgical mask with a hole in it for the stem of their mouth piece to stick through,'' Ms. Voss said.
Because of social distancing and the number of band members, the band room is too small to accommodate rehearsals.  The band now practices 6 feet apart across the stage and sit in chairs spread out in the Henry Tift Fine Arts Auditorium. The color guard is holding its practices in the band room.
 As something festive, band members  have marked their chairs with their favorite shirts. The marching band is still planning to perform its new show called "Fearless'' at football games during halftime this year.