Lunch, break play by different rules
September 6, 2020
Among the changes students and teachers have had to make has been lunch and break. Since the students can not wear masks while they are eating, maintaining social distance becomes especially important.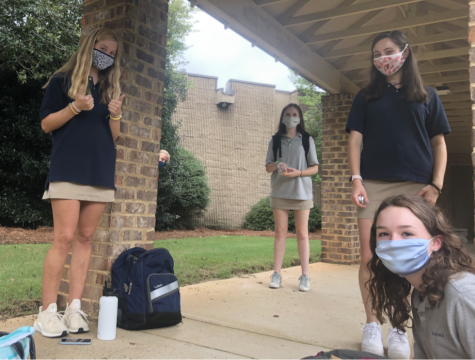 Students can eat in the cafeteria, outside, in the Daws Student Activities Center, Room 128, several classrooms, and the science building. Wherever students decide to eat they must social distance.
"The students that have been choosing to eat indoors have been doing quite well distancing themselves from each other, the kids outside are having more difficulties, though,'' Upper School Principal Mrs.Theresa Ferrari said.
Inside the buildings there are designated spots which she believes it helps students distance. She said students sitting in the new chairs outside have also been staying away from each other, but it is hard to get students sitting outside at tables and benches to maintain their distance.
 "Overall though I feel they are doing a good job adjusting to this new policy," Mrs. Ferrari said.
 She also said she is pleased with the variety of food the lunchroom has offered.