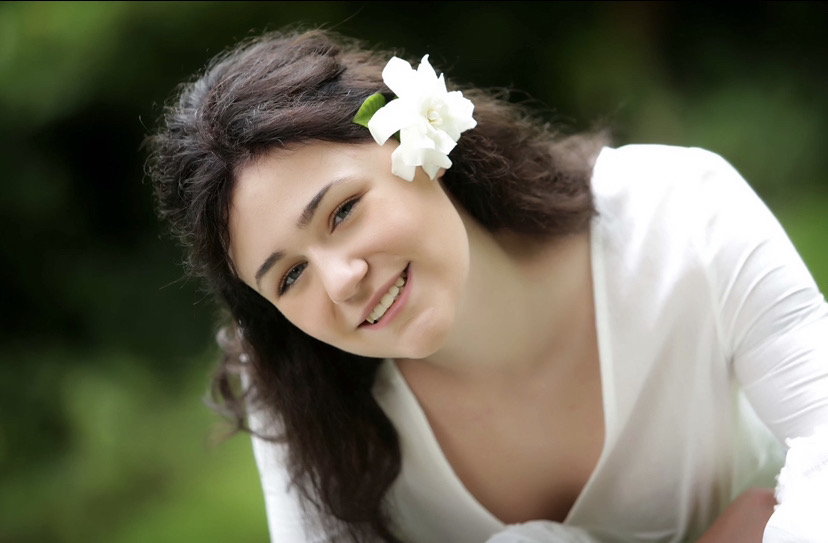 SENIOR SPOTLIGHT: Maddie Fackler
Maddie Fackler
NICKNAME: Maddie/Mads
SENIOR YEAR BUCKET LIST
I want to get into college.

I want to thank all my teachers before I leave. I know it's the suck up thing to say, but they've done a lot for me, and I really appreciate all of them.

I want to do the push-ups on the push-up board at a football game if we ever have the push-up board again because I've always wanted to do that, but I can't do push-ups.

I want to do the senior run down the hall because it has always been a thing, and I've always found it to be a really cool tradition.

I want to do one really good prank or get in trouble at least once.
SOMETHING ONE MIGHT NOT KNOW ABOUT YOU: 
I have a thing called dermatographia, so if I scrape my skin, a red line pops up and my skin pops up and I'll have a mark for like two hours. Whenever I got bored I used to play tic tac toe on my arms because it wouldn't hurt and it would go away super fast.
YOUR BEST QUALITY AND WHY? 
I would say my empathy because even though it sucks sometimes because you try to make everybody's problems your own, I feel like that helps me connect with other people very well. I love making friends, so it really helps me build relationships. It's cool to understand people.
YOUR GREATEST FEAR AND WHY?
 Spiders and cockroaches. They're creepy I don't like the legs and the antenna on cockroaches are weird. I don't like how sometimes you kill it and the antennae are still moving. I find that incredibly creepy. And spiders, they're obvious. They're the worst things that God ever created.
FAVORITE STRATFORD MEMORY? 
Playing boogaloo and doing the cheers with the band after we won a football game because everybody would be going crazy, and it would just be super fun especially if we won by just a little bit. That's a whole different type of excitement. We would all put down our instruments, except for the low brass like the baritones and tubas, and we would start the boogaloo cheer which is: "Let me see your boogaloo what's that you say. I say 'let me see your boogaloo what's that I say?'" And you do the John Travolta, shoot the moon, let me hear you Mrs.Ferrari, let me hear you Dr.Katz, and that's always been one of my favorite memories because it's so happy.
MOST EMBARRASSING MOMENT AT SCHOOL?
One time I fell down the lunchroom and dropped all my food. That really sucked. Just in high school, it was probably one time I was taking my jacket off in class and my shirt came up.
FAVORITE RESTAURANT AND WHY? 
Panera. The bread bowls. Unbeatable.
FAVORITE SEASON AND WHY?:
Definitely fall. The smell in the air. Halloween is my favorite holiday, and it just kicks up the whole holiday season. I love how it gets a little chilly, and you can wear a sweater. The colors; I love reds and oranges. It's just a comforting season, and I've always loved pumpkins and Thanksgiving. Fall 100 percent.
FAVORITE SOCIAL MEDIA AND WHY?
TikTok probably just because it's funny and there is not a lot of pressure. You can just make videos and there is no pressure to look good.
FAVORITE THING TO WEAR AND WHY?
Any outfit composed of a pair of Doc Martens, a skirt, and a crop top. Or anything that makes me look like I just walked out of a Renaissance fair or I just walked out of a 1990's Grunge Rock Scene. Any of the three you will find me in at any moment.
MORNING OR NIGHT PERSON AND WHY? 
Night person. Night is the time where you're by yourself and your free time hasn't ended yet. Nobody's really there to judge you, so you can just hang out and be by yourself and do what makes you happy without worrying about making other people happy. Self-care.
WHAT MAKES YOU SMILE AND WHY?
My friends because I like school and I love learning, but I'm not sure if I would have the motivation to do it on my own without the people around me. They keep me going. They're my best friends and I get to see them in school every day where we get to talk, laugh, and have fun. The people that you are surrounded by are the ones that make up your life. The relationships you form as you live are the most important thing. They also make me laugh. Also, when Mr.Harrington used to make mistakes in AP Chem and Sabina would correct him and he'd be like "Oh crap!" and we would be like "You graduated from MIT and have been teaching chem for 10 years but got that wrong and Sabina corrected you?"
WHAT ANNOYS YOU MOST AND WHY?
Ignorant people. We have the internet. We have Google. The information is right there. If you don't know something, just look it up. It's so not hard.
IF YOU COULD DEVELOP A VACCINE AGAINST ANYTHING, WHAT WOULD IT BE AND WHY? 
Probably HIV/AIDS because even though the medicine is available, it's not widely available and it can be really expensive. The epidemic is still sweeping around everywhere including less-developed nations.
COVID-19. For the record.
We know a lot about historical diseases: we know a lot of measles, smallpox, but the thing is that HIV/AIDS we know about it, but we don't know a ton. Even if the medicine is available, it is not widely distributed. There are tons of stereotypes surrounding it, and it's just hard for people to get the help they need. It is also highly spreadable.
FAVORITE SAYING:
Good morning, Vietnam!