Changes coming next week in the cafeteria
School "pauses" relationship with FLIK, brings in Campus Cuisine to cater lunches from local restaurants
The last bites of FLIK food will be taken Friday in the Prentice Robinson Cafeteria.
Stratford is putting its contract with the food company on "pause" and partnering with Campus Cuisine, a company that will provide meals from local restaurants, beginning Wednesday, Oct. 14.
Over the summer, Head of School, Mr. Logan Bowlds, expressed concern that FLIK would not be able to provide for the students like it has in years past, due to COVID-19 protocols. A survey was sent to Stratford families, and the responses were overwhelmingly in favor of making a change.
Since the beginning of the school year, FLIK decided to stay and try to make it work.
"
So I think long term, finding another company, maybe it's FLIK, maybe it's another dining service, there are tons of dining services out there. To say that they're gone forever is a stretch."
— Mr. Logan Bowlds
Unfortunately, the new way of service did not function as well as the company had hoped.
"In order for FLIK to be making a profit, they would need to sell about 500 meals a day. Right now, they are only making thirty meals, which is not sufficient," Mr. Bowlds said.
FLIK was required by the CDC to throw out any unsold items, resulting in a waste of food
Stratford will be partnering with a company called "Campus Cuisine." Food from local restaurants will be delivered to school twice a day.
The local restaurants that Stratford has signed a contract with, are Chick-Fil-A for every Monday, Fountain of Juice for Tuesdays, El Sombrero for Wednesdays, Firehouse Subs for Thursdays, and Your Pie on Fridays.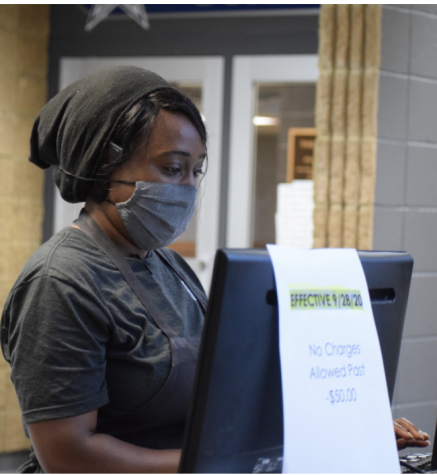 Food will be delivered once at 10:45 for the preschool and lower school students. Then again at noon for the upper school and middle school students to enjoy.
"Campus Cuisine has contracts with 350 other schools,"Mr. Bowlds said. He is familiar with the company, which provided food service to his former school in Pensacola, Florida.
"I don't know if any other schools in Macon use Campus Cuisine, but it is a popular program,'' he said.
Ordering Campus Cuisine is as easy as ordering FLIK, under COVID-19 conditions. Students may place an order up until noon the day before.
"The cost of Campus Cuisine will be about the same as FLIK is, it just depends on what you order,'' Mr. Bowlds said.
With the departure of FLIK, the lunchroom staff will leave, except for two lunchroom employees who will help manage the food and give it out. They will store the food in warming ovens, until lunch.
As for the contract with FLIK, it has been "paused," not terminated, Mr. Bowlds said.
FLIK and Stratford will re-assess their contract at the end of the school year.
"We like the idea of having food prepared and served here, because it allows people at the last minute to get food,'' Mr. Bowlds said. "So I think long term, finding another company, maybe it's FLIK, maybe it's another dining service, there are tons of dining services out there. To say that they're gone forever is a stretch.''
Leave a Comment