In-House Calls
Mrs. Anita Jones makes the rounds as Stratford's first full-time nurse
When she leaves her home on The Prado every morning, Stratford school nurse Anita Jones has her day planned in advance.
At least, that's what she thinks.
When you're a school nurse, you never know what the day will bring. Headaches. Upset stomachs. Skinned knees. Bloody noses. Bee stings.
And, as she likes to call it, "Teen-Age Girl Syndrome.''
Although this is her first year as a nurse practitioner at Stratford, she is not new to medicine. She has 38 years experience as a nurse. She is the school's first full-time since the school opened in 1960.
In her first four months on the job, she has come to expect the unexpected.
"Every day I plan my day like in the morning right when I get up, and it's totally different,'' Mrs. Jones said. "And I didn't know it would be like that."
Mrs. Jones is licensed to work with children from "newborn up to 21 years old.'' At Stratford, she typically sees the younger children more often in the clinic. The clinic is located in the lobby of the Cantrell Lower School, and her office is down the hall.
"I probably see lower school more. And maybe it's because I'm over there, or because they just have lots of little injuries they want to come and see me about."
She said preschoolers "are usually going to be our snotty, runny noses and coughs.''
She recently had a 5-year-old boy who had fallen on the playground and had a wood chip in his eye.
"They fall a lot,'' she said, "I've had one broken arm already. You know, he just fell off his little jungle gym." 
She deals with a lot of respiratory issues, too. In the lower school, she sees plenty of stomach aches.
"They all have stomach aches, and I have one who comes every day,'' she said. "A lot of that is 'school-itis.' They don't have it on the weekend, but they have it during the week. It's just they need to go to the bathroom. They just want to come see me because they know I have stuff in there. They like that little pepto bismol chewable tablet."
Among middle school and upper school students, she sees more girls than boys. She estimates she sees about 10 upper school students every day. With the boys, it's usually an injury. The girls come in with a variety of aches, pains and illnesses.
"Like this morning, I had a guy come in. His contacts were messed up. So I helped him, gave him the things he needed. 
"
Every day I plan my day like in the morning right when I get up, and it's totally different."
— School nurse Mrs. Anita Jones
"… The girls are all, what I call, the 'teenage girl syndrome,' which is: dizzy, headache, fainting, or almost fainting and tired. And they just mostly need some Ibuprofen, or they need to eat and drink water. But yeah, I call that my teenage girl syndrome. I've got lots of those," Nurse Jones said. 
Mrs. Jones grew up in Macon and graduated from Mt. de Sales. She graduated in 1978, and she was accepted into the Augusta Medical College of Georgia. After medical school, she went to Georgia State University with her BSN and earned her master's degree. Mrs. Jones is a pediatric veteran. She's been a nurse for 38 years, ever since she began working at Children's Healthcare of Atlanta in 1982.
"All pediatrics. That was my love," Jones said.
She said she was thrilled when Head of School Mr. Logan Bowlds contacted her about the position. In the past, those duties were split between Mrs. Robin Schorr, who works in the upper school office, and several teachers with nursing backgrounds.
"In the past, Mrs. Schorr would say, like 'OK, just sign out. Go home. Call your Mom,''' Mrs. Jones said. "But now, I'm keeping them here, and they're like, 'I can't just go home?' A lot of them already have called their mom before they come see me. And I'm like, 'No, you're not going home.' ''
In addition to seeing patients in her clinic, Mrs. Jones also makes her rounds and attends meetings. She is in charge of physicals for Stratford's athletic teams, which keeps her busy.
Of course, one of the primary reasons she was hired was because of the COVID-19 pandemic. She is proud Stratford only has had 8 cases since the beginning of the school year,
"We're doing an excellent job. We are doing so good, y'all. And you guys are wearing your masks. I mean, some of those people don't have them on, but never in the building," she said.
Since the beginning of the school year on August 19, there have been seven confirmed, positive COVID-19 cases of students. There have been 16 students exposed to a positive case, and 23 students with possible COVID-19 exposure to a positive case. Eight staff members have been tested for COVID-19, one staff member tested positive for COVID-19 and there were seven staff member exposures to a positive COVID-19 case. There have been 34 students who have received COVID-19 testing due to other illness symptoms. 
As of last week, there was only one positive COVID-19 case, with two students exposed to a positive case, and two students possibly exposed to a positive case. Two staff members were exposed to a positive case, and seven students received COVID-19 testing due to other illness symptoms. 
She said all the paperwork for COVID-19 "keeps me busy" and she constantly is receiving updates and attending webinars about it.
"I'll be doing paperwork, and then a kid comes in with a bloody nose, and so I have to stop,'' she said. "And I feel like I'm disorganized, but I really got it all together. It's just a lot of paperwork. I understand now what teachers (go through). My sister is a teacher. I never knew how much, and I'm just a nurse. COVID keeps me busy.''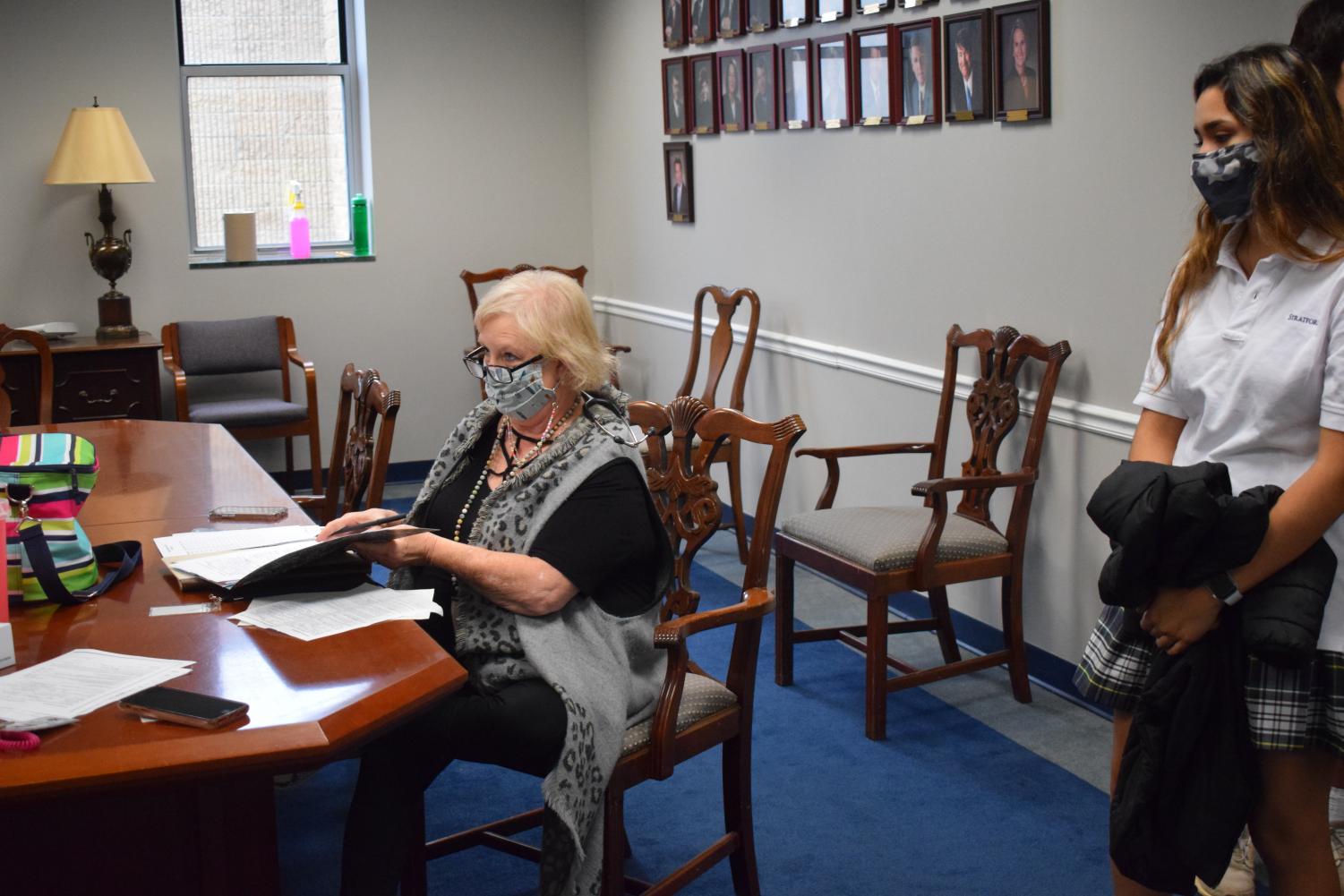 Leave a Comment