Guduri, Tang headed to Governor's Honors this summer
Varnika selected in communicative arts,Tang tapped for mathematics
When the final school bell rings in late May, many students try not to think of school for most of their summer vacation. 
Sophomore Sophia Tang and Junior Varnika Guduri will be heading off to the Governor's Honor Program, where they can learn more about subjects they are passionate about.
The Governor's Honor Program, GHP, is a four-week program where intelligent high school students come to learn more about subjects they are passionate about. The program takes place in Berry College in Rome, Georgia. GHP is also completely free, with room and board covered.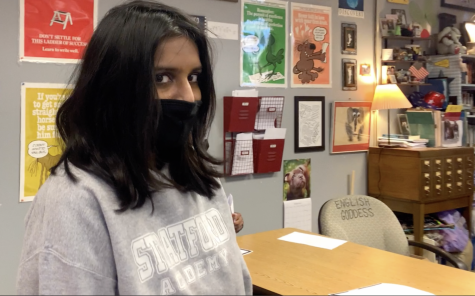 A teacher can nominate a student in the  Communicative Arts, Spanish, French, Latin, German, Mandarin Chinese, mathematics, science, agricultural science, social studies, visual arts, theatre performance, theatre design, music (woodwinds, piano, brass, strings, vocal, and percussion), dance, or engineering (design, mechanical, and software).
Sophia will be attending GHP for math, while Varnika will attend for the Communicative Arts.
"The process [to a GHP nomination] is mostly about talking about your passion for a subject,'' Varnika said. "And, in the communicative arts specifically,  having a passion for any form of written literature such as poetry and drama."
Sophia and Vernika said they are excited to be able to meet people who share their passions.
"I've met some of the people who are going to the GHP camp and it is intimidating since they're all so amazing. I am excited to be in a community with those people,'' Sophia said.
Mr. Bobby Stecher, Sophia's math teacher for the past year, described Sophia as, "a very hard worker.''
"She comes to class and is very serious,'' Mr. Stecher said. "If there is something she does not understand she keeps doing it till it is perfect."
AP English Language teacher Mrs. Michelle Fleming described Varnika as "curious.''
"She always asks questions and then questions about those questions till she gets the answer she wants,'' Mrs. Fleming said.
Leave a Comment