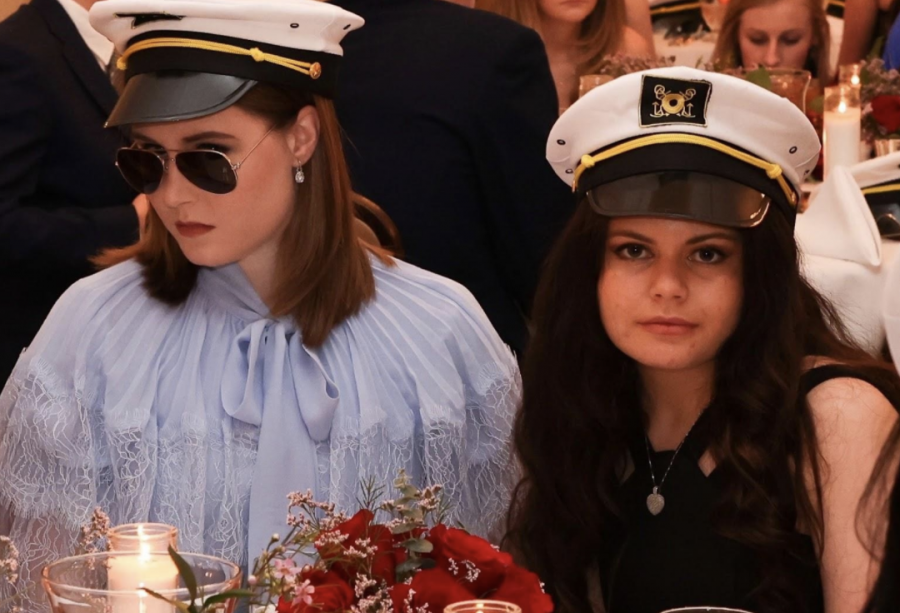 Miller Cranford
Mimi Rader: "Daddy Cool," Puberty Away Spray, Animal masks, Fashion shows at your house with Gabby, and Dance skills.  
Lila McCord: The Bupps, Barbies, Our hit single: "Breeze Girls," Harry Hippo, Orange rainbows feet, Fripp, YoUr'E gUnNa HeAr Me RoAr, Rigby's, Latin I & II(what else is there to say?), 5th period freshman bio, "Hey, folks!," Magistra, My illuminati swell bottle, Dr. Who, IFF, Derivatives, Crying over 1D's split, Wednesday dinners, Lax, Taylor Swift, Ariana Grande, Mr. Roediger's class, and UGA.
Caris Weinberg: GRRR, Ed Sheeran discussions, Frenemies, Careese, Baaaah🐑, That one game of Clue in Latin II, Latin I & II(what else is there to say?), LSC, Leo & Aries duo(superior to every other astrological duo), Hercules' labor wrestling the lion, That one special jar of peanut butter, Febreze, Vladimir, Boris, the Boris who isn't your cat, Tiffany and Blitzer, Carlin's Latin visits, and Mr. Roediger's class.
Mason Spiegel: AMSND, P.O.T. 4ever,  "Tarry, rash wanton!," "Yes," Mistaking someone for my  grandma, "Isle a Palm," Mr. Roediger's class, My short-lived symphonic band experience, and Friday night football games. 
EmmaJane Canady: Latin I & II(what else is there to say?), Lax, Dislocating your pinky, Ms. Hubbard as manager, Egg pelting, David, Cashiers, Artichoke and tomato pizza, Watercolor, Baja blasts, "Classic," "Something About the Sunshine," Country music, Algebra I freshman year, Freshman year journalism, Algebra II, Gazebabies, Garbear, Our glorious Romeo & Juliet poster, College Algebra, and Mr. Roediger's class.
Cottagecore Picnic Buddies: Just Dance!, Buffalo's, AmStar, Megan's Bday, Beach Trip, and Many more adventures<3!
Shaw London: Party pal, Your plus one, Our FAVORITE choice of beverage, Raydaniel, Strawberry pretzel salad, and Scorpio rising twin. 
Maddie Fackler: Q, The one party plan we NEVER follow through with, Genderbending male celebrities, Nirvana, Being the BEST Aries duo, Wiping away tears, and UGA.
Haaris Ahmed: AP Latin(in general), Content questions👀, Check attempts, Vocab quizzes, After class recaps, Mr. Well's disciples, Mr. Roediger's class, and UGA.
Carson Butcher: Starbucks, Tommy memes, "That's so fetch!"(but replace "fetch" with a word that rhymes with it, but begins with "s"), Chick runs during break, Friend surveys, Bumble, Interesting follower requests on insta, "RIP DAT," Very different Latin experiences, and UGA.
Darran Shivdat: "Woof," "Rawr XD," Sagittarius girly pop!, Spencer, Darr Darr Binks, Staring contests, and Tenor sax(RIP).
Claire Hurt: Latin III/IV, Christian Slater, INFP pal, "Bacchus and Philemon," D&D, AMSND, "Rawr, rawr, rawr,  rawr,  rawr," Scansion, Zoom classes, and Lunch near the Tommy Garden.