Beep! Beep! It's my Jeep!
Besides your house, most have the privilege of having a second home but on wheels, after you turn the beloved "sweet 16".
Your car accepts all the soda spills, dents, scratches, and forced trips through the mud. Never once do you hear it whine or complain. Until it needs a few days off in the dealership doctor, which it completely deserves. 
Through the heat, the snow, the rain, and the six hour trips to the beach, they do more for us than we realize in the moment.
I was lucky enough to be thrown a sweet sixteen party at "FOJ an eatery" on July 17th 2020, the pandemic year. The night before my sixteenth birthday. Masked and socially distanced, there was still an effort to make my birthday special. 
After being welcomed by my closest friends and family in the side room of my favorite local restaurant, my mom handed me a small square box with a bow on top.
I unwrapped the box as everyone around me was watching with impatience, and found a small black key engraved with the beloved title, "Jeep".
My parents then covered my eyes and led me out to the parking lot of the Prado. After taking their hands off my eyes, I fell in love with my white Jeep Grand Cherokee. I immediately named it Kylie.
"
When I opened my eyes and saw that I now owned a real, life sized white Jeep, the name Kylie felt most appropriate to match my excitement. 
— Harley Anne Shurling
I carried Kylie around with me everywhere, with her white Jeep in my other hand. When I opened my eyes and saw that I now owned a real, life sized white Jeep, the name Kylie felt most appropriate to match my excitement. 
In my family, naming cars is a necessity. My grandfather's car is Pearl, and he had Angel but she is in a better place now… My brother Rawson has a Toyota 4Runner TRD, named TRex. 
My mom's car is currently named KiKi, and my dad's big red truck is named "Big Red". Very creative. My sister's Suburban is named "Burbie", and my sister in law's Jeep is named "Lulu". Some have meaningful names or others were simply off the top of their heads.
It just seems right. After all they do, they deserve a name. Or at least we think so. It makes having a car a bit more fun.
Besides a name, my family tends to also celebrate our cars' birthdays, or the day that they were purchased and brought into our big family. 
Luckily for me, Kylie's birthday is the day before mine, when I got her on July 17th. It is truly 48 hours of joint celebration. 
My brother traveled to Dairy Queen last year for his car, TRex's birthday. As he pulled into Dairy Queen, he rolled the windows down and blasted the "Happy Birthday" song and ordered a birthday cake blizzard. It's silly, but makes for a good laugh and good memories.
Aside from all of the fun, we're lucky to have a car in the first place. We take it for granted. 
It feels right, giving them a bit of love and appreciation. Whether it's a carwash or an oil change. Or as my family tends to believe, a name and an annual birthday party.
Leave a Comment
About the Contributor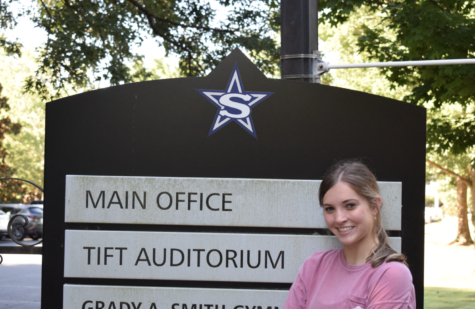 Harley Anne Shurling, News Editor
NAME:  Harley Anne Shurling

GRADE: 12th

SCHOOL ACTIVITIES: President of Pep Club & French Club, Key Club & Beta Club member, and Peer Mentor

FAVORITE...