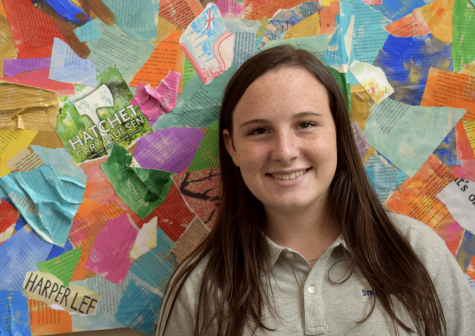 Anne Travis Evans is a sophomore and on her second year on the Gazebo. 
She plays tennis and is a member of the Key Club. 
Her favorite thing about school is break and her least favorite thing is having to get a VPN. 
She does not like parking. 
She loves chicken fingers and her favorite color is blue. 
She loves How I Met Your Mother. 
Her celebrity crush is Tom Holland because he is Spider-Man.
She would want telekinesis as her superpower so she could move stuff with her mind. 
She surprisingly has never broken a bone in her life.

Anne Travis Evans, Staff Writer
Apr 30, 2020

Good Morning, Stratford Thursday April 30

(Story)

Mar 20, 2020

Day in Life Part 1

(Story)

Feb 25, 2020

Good Morning, Stratford Tuesday February 25

(Story)

Jan 30, 2020

Time for Talent! Sign up for the Talent Show

(Story)

Jan 27, 2020

Good Morning, Stratford Monday Jan. 27

(Story)

Dec 18, 2019

HUMANS OF STRATFORD

(Story)

Dec 05, 2019

Good Morning, Stratford Thursday December 5

(Story)

Oct 08, 2019

Good Morning, Stratford Tuesday Oct. 8

(Story)

Sep 27, 2019

Good Morning, Stratford Friday Sept. 27

(Story)

Aug 30, 2019

Good Morning, Stratford Friday Aug 30

(Story)

May 07, 2019

WONDERS OF STRATFORD

(Story)

Apr 12, 2019

SENIOR SPOTLIGHTS 2018-19

(Story)

Apr 26, 2019

An eighth-grade survival guide to Washington

(Story)

Mar 14, 2019

Much Ado about "Shakesfeare"

(Story)

Feb 15, 2019

The Great Bear Sighting

(Story)

Jan 27, 2019

Bullet journaling on the rise at Stratford

(Story)

Dec 04, 2018

Everything you need to know about teen slang

(Story)

Oct 26, 2018

Halloween: A Blast from the Past

(Story)

Nov 13, 2018
Sep 21, 2018

After first month, new students getting settled

(Story)