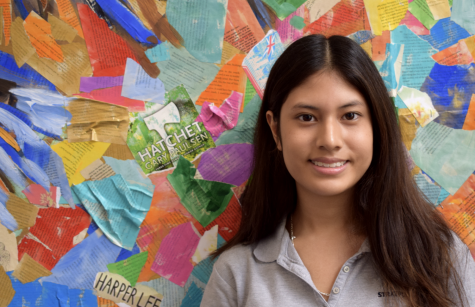 This is not only Annie Shih's first year at Stratford but also her first year in the United States. She recently moved here from Costa Rica. 
She is currently in the 10th
grade and has a younger brother named Danny, who is in the eighth grade.
There are many things she likes about the school, including the great teachers and nice students. However, she dislikes the homework and the fact that it takes up hours of sleep. 
Although she has not been here long, she already has plans to restart the Chess Club. She also has many hobbies such as playing the piano, guitar, and flute and writing and doing art. On weekends, she likes to hang out with friends. 
One rare but fun thing she was able to experience a couple of years ago was bungee jumping.
Other things she wants to do include graduating, finding a job she likes, and writing a book.
 At home, one of her favorite shows to watch is "The 100." She has two pet parrots named Erick and Cookie. 
If she won a million dollars in the lottery, she would donate part of it to charity and buy a couple of things she likes but save most of it for college. 
Additionally, she says that it would be helpful if she could read people's minds if she could choose a superpower.
One piece of advice that she wants to share with others is to give your best today, so you can create a better tomorrow. -- Sabina Ajjan
Annie Shih, Staff Writer
May 11, 2020

Stratford freshman makes isolation gowns a school-wide project

(Story)

Apr 27, 2020

Good Morning, Stratford Monday April 27

(Story)

Mar 28, 2020

Students, faculty adjust to 'distance learning'

(Story)

Mar 28, 2020

More than a dream: I have found my calling

(Story)

Mar 22, 2020

Day in Life Part 3

(Story)

Mar 09, 2020

Southern Lit? Philosophy? Print Making? You'll have your choice

(Story)

Feb 04, 2020

Good Morning, Stratford Tuesday February 4

(Story)

Jan 31, 2020

More than two dozen countries participating in 'Celebrating Our World: Sharing Our Heritage'

(Story)

Jan 20, 2020

Best of the Blogs

(Story)

Dec 18, 2019

HUMANS OF STRATFORD

(Story)

Dec 04, 2019

App's revolutionary update simple, useful

(Story/Media)

Dec 04, 2019

Good Morning, Stratford Wednesday December 4

(Story)

Nov 22, 2019

GAZEBO BROADCAST: Thanksgiving Edition

(Story)

Oct 25, 2019

(Almost) everything you need to know about scholarships

(Story/Media)

Oct 23, 2019
Oct 09, 2019

Good Morning, Stratford Wednesday Oct. 9

(Story)