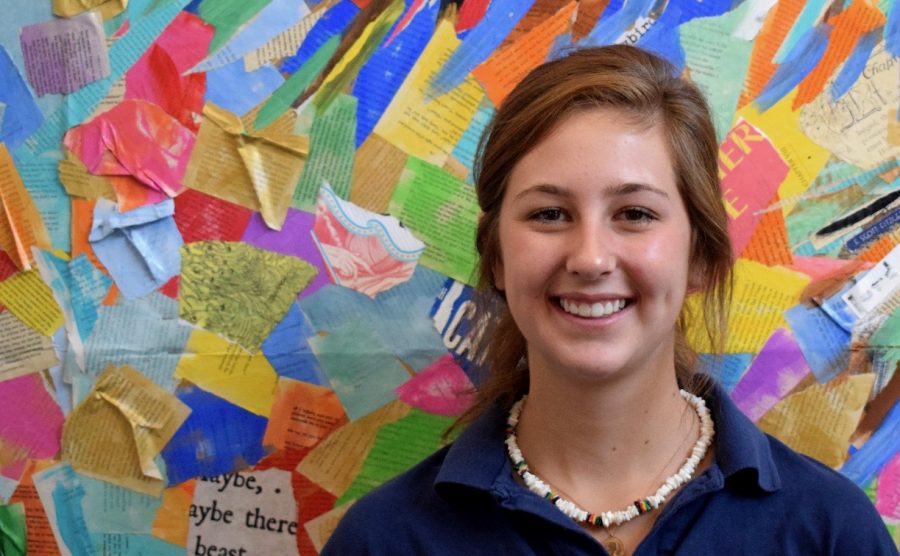 Student Leadership Board president, Elizabeth Sellers, is someone who loves everyone at Stratford. This is her second year on the Gazebo, and she is a staff writer. 
She will be graduating this May after 15 years at Stratford. Elizabeth will dearly miss her little sister, Campbell Ann, an eighth-grader, and her friends.
On weekends, she loves to hang out with her friends who prefer to call her Liz. She also loves to watch her favorite T.V. show "The Society" and spend time with her family. 
Elizabeth is involved in SLB, cheer, basketball, track, and Pep Club. Her favorite thing about Stratford is the wonderful FLIK food, specifically the fries and cookies. Her least favorite thing about school is the wifi. 
Next year she will be leaving her favorite underclassmen Shorter McCook, Mack Strickland, and West Kovacs behind.
-Knox Cleveland 
Elizabeth Sellers, Staff Writer
May 15, 2020

Good Morning, Stratford Friday May 15

(Story)

Apr 05, 2020

Good Morning, Stratford Monday April 6

(Story)

Mar 29, 2020

Day in Life Part 6

(Story)

Mar 13, 2020

Coronavirus brings feels of anxiety, disappointment

(Story)

Feb 28, 2020

GAZEBO BROADCAST: Daffodil Edition

(Story)

Feb 27, 2020

Good Morning, Stratford Thursday February 27

(Story)

Jan 24, 2020

Who's with Who? Date wall for Sadie Hawkins Dance

(Media)

Jan 20, 2020

Best of the Blogs

(Story)

Jan 15, 2020

Good Morning, Stratford Wednesday Jan. 15

(Story)

Dec 18, 2019

HUMANS OF STRATFORD

(Story)

Nov 22, 2019

Good Morning, Stratford Friday November 22

(Story)

Nov 20, 2019

Gazebo Gift Guide

(Story)

Oct 24, 2019

Cheering may not be for everybody, but it's for me

(Story)

Oct 17, 2019

Good Morning, Stratford Thursday Oct. 17

(Story)

Sep 11, 2019

'There's No Place like Home-coming' theme for homecoming week

(Story)

Sep 05, 2019

Eagles seek victory on road

(Story)

May 25, 2018

SENIOR SPOTLIGHTS 2017-18

(Story/Media)

May 24, 2018

PHOTOS OF THE YEAR

(Story)

May 16, 2018
May 15, 2018

Soccer isn't for everyone, including me

(Story)

Apr 18, 2018

Eagles shine at Golden Eagles

(Story)

Mar 16, 2018

Blossom rocks at The Academy

(Story)

Feb 15, 2018

Gazebo Valentine's Day Hug Project

(Story)

Feb 14, 2018

What is true love?

(Story/Media)

Jan 31, 2018

For Morley Conn, every day is Groundhog's Day

(Story)

Jan 25, 2018
Dec 06, 2017

'Superlatives' awarded to 40 seniors

(Story/Media)

Nov 15, 2017

Community service a way to reach out

(Story/Media)

Oct 24, 2017

All eyes on the iPhone

(Story/Media)

Sep 28, 2017

Homecoming Week themes, kings announced

(Story/Media)

Sep 19, 2017

Eight senior girls named to homecoming court

(Story)

Sep 06, 2017

Eagles get off to a running start

(Story)

Aug 31, 2017
Aug 22, 2017

Eagle Pride takes center stage on Eagle Night

(Media)