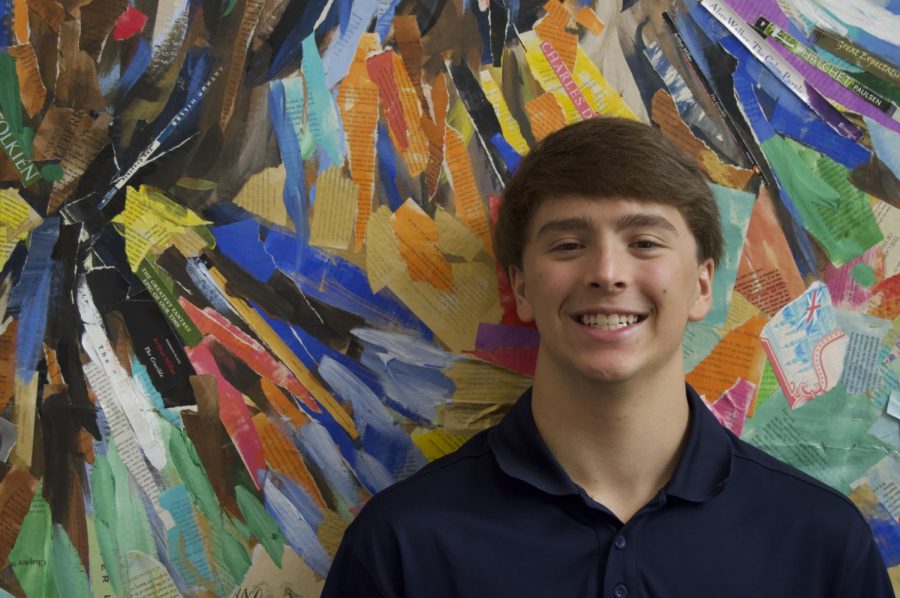 Knox Cleveland, who also goes by "Cleve" is known for his extreme love for the Georgia Bulldogs, specifically their football team. Since he plays the game himself along with soccer he loves watching sports all around. 
Most of you see him as the weatherman on the Gazebo broadcast. He is very experienced considering this is Knox's third year in journalism as a staff writer. 
On the weekends Knox enjoys hanging out with friends, playing soccer and football, and, in the fall, watching Georgia Football. 
Knox cries the most during UGA football when they lose and laughs with his friends and family. His favorite TV show is "Impractical Jokers", and his most loved movie is "Talladega Nights". 
"Cleve's" favorite food is Chinese but at school, it's the old FLIK cookies. His favorite thing about school is break, while his least favorite thing at Stratford is the WiFi. 
Knox participates in Key Club, varsity football, pep club, and varsity soccer. 
Knox can't wait for two more great years of journalism and to be a senior next year!
-Elizabeth Sellers
Knox Cleveland , Staff Writer
May 13, 2020

Give me some of that 'Old Man Music' any time

(Story)

Apr 21, 2020

Good Morning, Stratford Tuesday April 21

(Story)

Feb 20, 2020

Good Morning, Stratford Thursday February 20

(Story)

Jan 28, 2020

On Wednesday, everybody gets to be 60

(Story)

Jan 14, 2020

Good Morning, Stratford Tuesday January 14

(Story)

Dec 18, 2019

HUMANS OF STRATFORD

(Story)

Nov 20, 2019

Gazebo Gift Guide

(Story)

Nov 12, 2019

Transition to soccer has been life-changing

(Story)

Nov 05, 2019

Good Morning, Stratford Tuesday November 5

(Story)

Nov 01, 2019

Cross country teams sweep area meet

(Story)

Oct 25, 2019

Good Morning, Stratford Friday October 25

(Story)

Aug 20, 2019

Good Morning Stratford Tuesday Aug. 20

(Story)

Apr 12, 2019

SENIOR SPOTLIGHTS 2018-19

(Story)

Nov 30, 2018

An unlikely friendship with my favorite Dawg

(Story)

Nov 15, 2018

Three seniors sign athletic scholarships

(Story)

Nov 13, 2018
Nov 08, 2018

Gazebo Sports Podcast November 7

(Story)

Nov 02, 2018

Gazebo Sports Podcast 11/1/18

(Story)

Nov 01, 2018

Stratford Sports Podcast November 1

(Story)

Oct 23, 2018

Gazebo Sports Podcast October 23

(Story)

Oct 15, 2018

Stratford Sports Podcast October 15th

(Story)

Oct 04, 2018

Gazebo Sports Podcast: Week 6

(Story)

Sep 18, 2018

Gazebo Sports Podcast: Week 5

(Story)

Sep 14, 2018

Eagles hit the road for Fellowship

(Story)

Sep 10, 2018

Gazebo Sports Podcast Week 4

(Story)

Sep 07, 2018

Palmer, Eagles aim for win column

(Story)

Sep 04, 2018

Gazebo Sports Podcast Week 3

(Story)

Aug 30, 2018

Stratford hopes to bounce back in home opener

(Story)

Aug 28, 2018

Gazebo Sports Podcast Week 2

(Story)

Aug 23, 2018

Eagles ready to do 'Whatever It Takes'

(Story)

Aug 22, 2018

Gazebo Sports Podcast Week 1

(Story)

Jun 15, 2018

ASK A GROWN-UP

(Story/Media)

May 24, 2018

PHOTOS OF THE YEAR

(Story)

May 18, 2018

Stratford's Thompson wins second high jump crown

(Story)

May 10, 2018

10 Eagles headed to state track meet

(Story)

May 04, 2018
May 02, 2018

Boys soccer still alive and kicking

(Story)

Apr 05, 2018

Four kids and a kid

(Story)

Mar 23, 2018

Grandparents Day 2018: Beatles Invasion

(Media)

Feb 28, 2018

Final Four Bound!!!!

(Story)

Feb 27, 2018

Eaglettes ride 21-game winning streak into Elite Eight

(Story)

Feb 10, 2018

Spirit Week Seniority

(Story)

Jan 31, 2018

Super Picks

(Story/Media)

Jan 25, 2018

Hunt, Jordan provide leadership for streaking Eagles

(Story/Media)

Jan 22, 2018

What are your favorite pizza toppings?

(Story/Media)

Jan 13, 2018

It was an amazing ride

(Story)

Oct 12, 2017

Getting our game face on

(Story)

Apr 27, 2017

Eighth graders excited about Friday's trip to Six Flags

(Story)