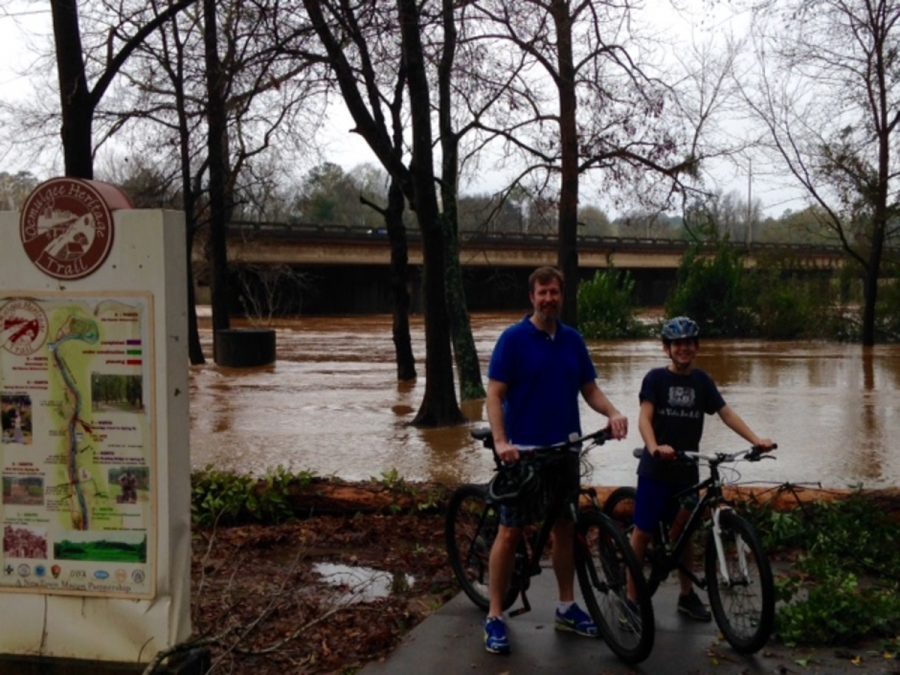 Biking in downtown Macon is an experience to be shared
I have always loved biking. There is a trail near my house in Shirley Hills, so it is easy to get on my mountain bike and ride trails that allow me to see the seasons of nature.
It is probably the most beautiful and serene in autumn when all the leaves are falling. Your tires make a crunching sound over leaves, like the sound of popcorn being crunched in your mouth. Now that spring has arrived, the landscape by the Ocmulgee River Walk is breathtaking..
After the river is full from a heavy rainfall, the Ocmulgee moves slowly, like a liquid caramel fountain. It is quite beautiful to see all this when you are on the river walk. But when you are biking, everything that normally seems fast, moves slowly and the leaves stick to your bike helmet.
This was all wonderful, and still is, but when the trails were becoming too easy, and my dad and I wanted more of a challenge.
We live just five minutes from downtown, so it was an easy decision to go there. There has been  a recent influx of young people buying lofts and a greater police presence downtown.
Some people were once afraid to go downtown. They rarely went there to shop or eat at a restaurant. They lived in the suburbs. 
A few years ago, you could have shot a cannon through downtown Macon and nobody would have been hurt.
That has changed, and so has the perception. Downtown has been revitalized with all the loft apartments and new businesses and restaurants. It is now a safer place to live and work.
When I was in the seventh grade, I was still learning and not an expert biker like my father, who once had done bike tours in France. We decided to go on a Sunday when not many people would be out driving around.
We biked through the trail and and over the bridge which connects my side of the river to downtown. I was enjoying myself, but got tired at about the base of Poplar Street. The giant hill ahead made my legs feel like lead just thinking about it.
We stopped at a local store owned by some friends and ordered a plain roast beef sandwich and a grape and blueberry smoothie.  
One day, my father and I got back on our bikes and climbed, slowly but surely, up the hill on Poplar Street. We got to the top and surprisingly, I had more in the tank, so we kept biking.
A few years ago, you could have shot a cannon through downtown Macon and nobody would have been hurt.
We eventually arrived at Mercer Village. We stopped, and I was a little nervous I couldn't get back because I physically taxed myself to my biking limit.
We saw a nice little coffee shop and got out of the chilly weather, since winter was on the way. The coffee shop was called Jittery Joe's. My dad got an apple cider and a sugar cookie. I got a hot chocolate and a chocolate cookie.
Then they said the words that sealed the deal for me. They asked, "Would you like your cookies warmed up?"
"This is amazing," I thought.
It has been this way every Sunday, rain or shine, unless something comes up. You can find me and my father biking on the Ocmulgee River Trail. Or on Poplar Street, making our way up the looming hill as we make our trek to Jittery Joe's.
Biking is a wonderful hobby. If you ever get a pretty clear day and aren't doing anything, go outside and bike. It is great for your health and, with all the beautiful scenery in Macon, there isn't a bad place to bike.