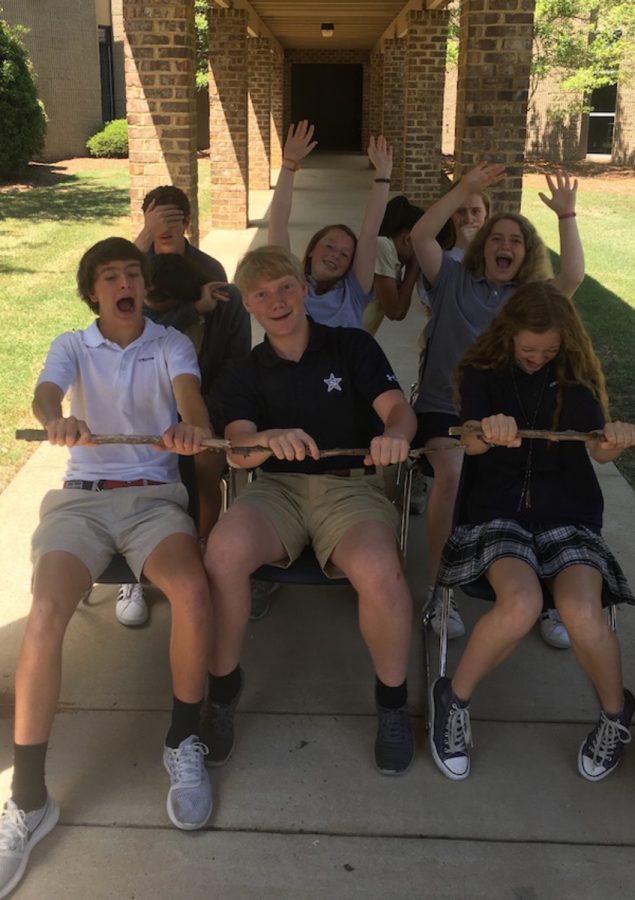 Gazebo Photo by Claudia Pope
Eighth graders excited about Friday's trip to Six Flags
April 27, 2017
Nathan Dummitt, Harrison Brown and Kenna McElmurray are ready for the roller coasters. Tony Nguyen is looking forward for the carnival rides
Jack Boltja and Jack Medlin can't wait for the food. And, added Ishan Viradia, the "overpriced drinks."
Harrison Tuck and Jase Smith are happy to be getting out of school for a day.
Stratford's eighth graders are ready for their Friday trip to Six Flags.
But is Six Flags ready for them?
Roller coasters were the most anticipated rides in a poll by the Gazebo Middle School staff. Among the rides most mentioned were the "Goliath" and "Blue Hawk."
"I am most looking forward to riding the roller coasters especially the Superman because I like riding on my tummy," said Kenna. "It makes me feel like I am flying!"-
Niya Dillard said she loves the huge roller coasters that go upside down. She is excited about the new "Blue Hawk" coaster and the classic "Goliath."
"I'm really excited for all the roller coasters at Six Flags, because I heard that they are all really big and fun," said Madelyn Poss. "I'm also excited to hang out with my friends, and walk around and have a good time at the park."
"The one roller coaster I like the most there is the Goliath because I like rollercoasters with big drops," said Maddie Fackler.
"I am looking forward to going to the Goliath because I haven't ridden it in a long time," said Olivia Santoyo Turullis.
Lauren McElrath, Alyan Khoja, Mary Kate Groves and Zayne Arell were also among the other students excited to ride the Goliath. Mary Kate and Evie Tharpe are fans of the "Blue Hawk."
"It is new, and I like rides that go upside down," said Evie.
Madison James is  a fan of roller coasters that go upside down.
Bond Almand mentioned the Scream Machine, which has been around for decades.
"It's just fast, and that's the only thing unique about it," he said.
Of course, the roller coasters aren't the only rides at Six Flags.
"I don't really know what the names of any of the rides are but I like the big swings," said Mimi Rader. "Once I saw a shoe on the roof."
It will be the first trip to Six Flags for several students, including Ben Jamison and Caris Weinberg.
Some of their classmates, like Marlie Potts and Lolly McMahon, said they haven't been in a long time.
Lila McCord said she is excited for "riding all of the rides"and "hanging out with her friends."
Harriett Ann Bowden also is glad to be going on an adventure with her classmates.
"I am looking forward to riding lots of fun rides and having a fun time with friends," she said.