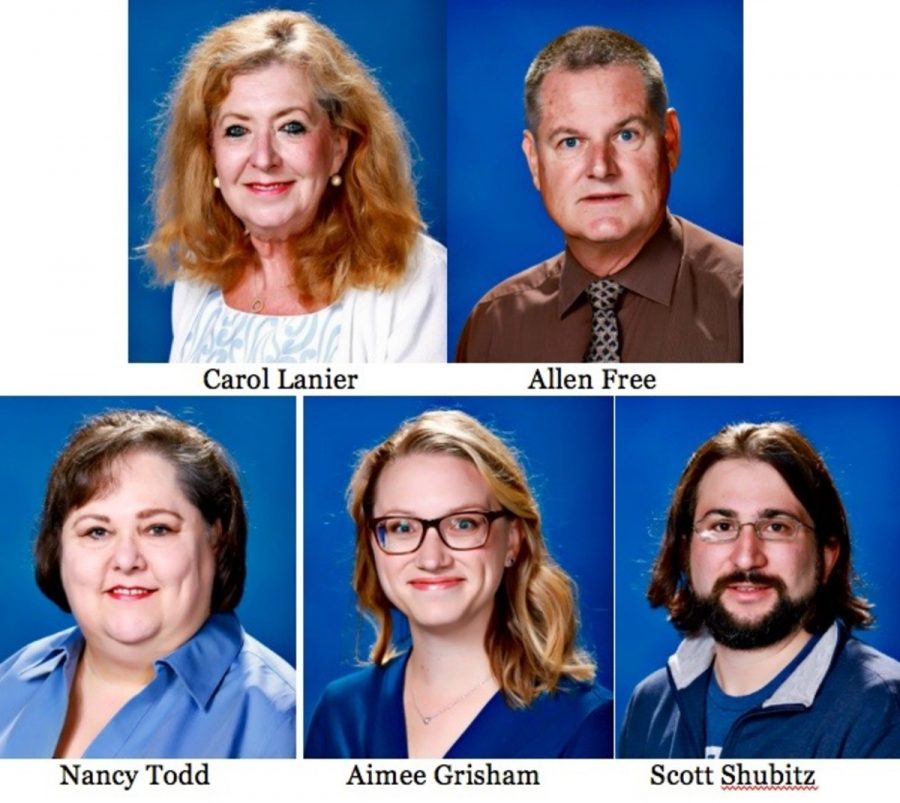 Five upper school teachers departing
May 30, 2017
Five upper school teachers are leaving Stratford at the end of the academic year — Mrs. Carol Lanier, Mr. Allen Free, Ms. Nancy Todd, Miss Aimee Grisham and Dr. Scott Shubitz.
Mrs. Lanier has taught at the Academy for 23 years and calls it "a happy place to be."
She is leaving her full-time position teaching European history. However, she will continue to teach the Holocaust class and comparative world cultures,.
She said she will miss the "enthusiasm of the students to challenge themselves to learn something new or learn something they have always liked."
Reflecting on her time here, she said,' 'Everyone has been nice to me, and I like to be kind back, so I think Stratford has given me a validation of who I was."
When asked about her favorite memories at Stratford, she could not single out one.
"Every day I laugh," she said. "Somebody says something that means so much to me and I have to say every day is a good day. There can be bad moments in good days, but they're all good days."
She is looking forward to having more free time.
"Maybe after 23 years I can finally clean out my closet," she said. 
Ms. Todd has been teaching at Stratford for the past 11 years. She has taught Senior Humanities and served as the ninth-grade dean of students.
 "I started out as a teacher which has been wonderful experience," she said. "My students have been so kind and appreciative. I have also been a friend and a collaborator with staff and faculty here."
As freshmen dean, Ms. Todd has been instrumental in the Peer Mentor program. She also has worked with faculty members to help rising ninth-graders and their parents make the transition to high school.
Before Ms. Todd came to Stratford, she graduated college in economics as well as business. She then went into ministry, which incorporated religion, and from there she became a certified public accountant. She received her Masters degree in counseling.
Ms.Todd chose to teach Humanities because it incorporated all of these aspects.
"Instead of being a master of one, I became a jack of all trades, and humanities fits that bill," she said.
Her retirement plans are to "sleep in, read books, watch movies, travel, garden, and maybe vacuum her house." She is also thinking about taking classes and learning a new subject at the University of Georgia.
Mr. Free, a Geometry and Trigonometry teacher, is retiring this year, after teaching 11 years at Stratford.
If you ask any student at Stratford about Mr. Free odds are they will laugh as they recall a memory of him telling one of his famous jokes or stories about his life. You can often find Mr. Free walking around Stratford admiring nature or encouraging his students into becoming "proofessors."
Outside of teaching, Mr.Free enjoys spending time on rivers and lakes. He likes activities such as canoeing, fishing, kayaking and fly fishing. He also enjoys outdoor landscaping, especially with rocks. He said he is looking forward to resting and actively participating in those hobbies after his retirement.
Free believes now is a good time for him to retire. "There are many things that I would like to do with my life before I am too old or have health problems and I'm unable to do them," he said. "I'm ready to move onto another phase of my life and just do different things. Although I do enjoy what I am doing, there are other things I would like to do as well."
Spanish teacher Ms. Grisham is leaving Stratford after two years to pursue a degree in audiology. Ms. Grisham will be attending Vanderbilt University in Nashville, Tennessee this fall.
Stratford has made a lasting impact on Ms. Grisham. She will miss the students most,and she has loved how Stratford is similar to one big, happy family
Ms. Grisham is unclear about which direction she will take after Vanderbilt. She says she may become a clinical audiologist, go into private practice or work in a hospital.
Dr. Shubitz, who has been the 11th-grade college prep U.S History and AP U.S. History teacher, is leaving Stratford after one year to take a teaching position Gordon State University in Barnesville.
"It was something new and exciting," he said. "It's an opportunity I really couldn't pass up."
His wife, Dr. Tiffany Hensley, will continue to serve on the faculty at Stratford as a Middle School English teacher.