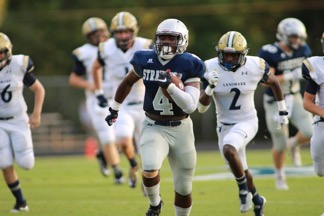 Gazebo Photo by Courtesy of twitter.com/willsstills
Eagles get off to a running start
September 6, 2017
Stratford has a long tradition of running the football.
In fact, the Eagles have called a running play for eight out of every nine offensive snaps this season.
The result has been impressive victories over Savannah County Day and Landmark Christian to start the season. Heading into Friday's home game against Atkinson County, the Eagles are averaging  288 yards per game.
Sophomore Deandre Duehart is the team's leading rusher, with 173 yards on 29 carries and three touchdowns. Senior Tyler Jordan, the most experienced running back, is not far behind with 154 yards on 18 carries and two touchdowns. Both Duehart and Jordan are big backs with power and speed. Duehart is 5-foot-10, 215 pounds, and Jordan is 6-foot and 216 pounds.
At 5-foot-11, 170 pounds, junior Jonathan Siegel is the smallest of the top three rushers. But he has been the most productive scorer. He has run for four touchdown on 15 carries.
Despite losing Kasey Sanders, Ames Jamison, and Russell Mole to graduation last year, Head Coach Mark Farriba has remained confident with his running game.
"I'm proud of the guys,'' Farriba said. "Tyler has played a lot and has the experience, Deondre is a hard nosed player and is coming on strong and Jonathan has done a good job stepping up to the challenge."
The Eagles also have depth at running back with Carter Griffin, Jamie O'Quinn and Will Deal.
"It's a good group of guy,'' Farrib said. "We feel fortunate to have this many quality runners.''
Jordan, one of 13 seniors on the Eagles' 49-man roster, has been impressed with the overall effort in the first two games.
"The team has such a great bond that will definitely help us throughout the season,'' Jordan said.