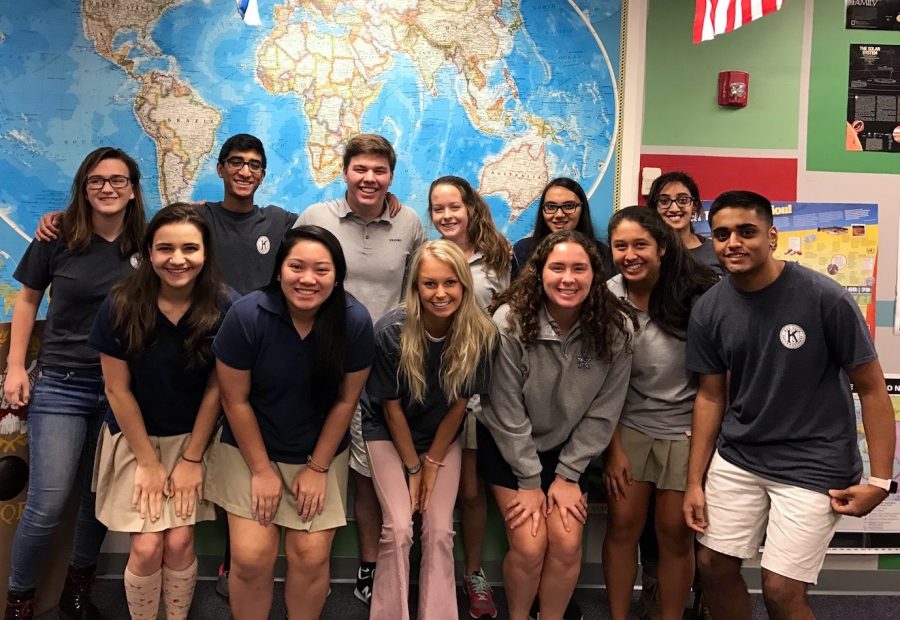 'More than just a T-shirt'
Key Club committed to serving community and developing leaders
September 28, 2017
It's more than just a T-shirt.
That's what Key Club President Ellie Wangerin wants you to know about Key Club.
"It used to just be the 'T-shirt club,' where you sign up, you get a T-shirt and you wouldn't hear of it again until the next year,'' Ellie said.
Key Club is devoted to helping the community and bettering it's member as leaders. It is the largest club at Stratford, with about 140 members.
On Sept. 21, the club raised $1,546.39 for the Ronald McDonald house on McJeans Day. The club also participates in Trick-or-Treat for UNICEF, and it's proceedings go to help people afflicted by Neonatal Tetanus. This allows lower school students to ask for change as they trick or treat.
"
A lot of the clubs have one or two leadership positions, but we've tried to spread out the work."
— Ellie Wangerin
A food drive is held which collects cans of food to take downtown to the Macon Outreach Program. In February, a blood drive is held in which anyone eligible can donate blood. In addition to these donations, Key Club will host another bake sale in March, which will contribute to many other service organizations.
Ellie, a senior, said anyone can join Key Club and get important skills and experience.
"It's a leadership and service organization, so we hope people get leadership experience by going into the club," she said. "A lot of the clubs have one or two leadership positions, but we've tried to spread out the work."
This helps everyone who joins gain leadership experience even if they are not president, she said.
As president, Ellie wants to accomplish many things this year. Her main goal is for everyone to get a positive reaction from this club.
She will change these views by adding projects which will bring more awareness of the club and although she loves her T-shirt, she knows it is good for the club to be more involved.
While all of the projects can be fun and have a big impact on the community, Ellie decided that food drive had to be her favorite because Stratford is always able to collect so many cans.
Members of Mulberry United Methodist Church help them unload as they arrive at Macon Outreach which completes the experience.
"It is also just fun taking it down there because you've got five different cars piled with boxes, you've got students sitting on boxes that are all piled up in the back seats, and you can feel them tipping over as you drive down Forsyth."