'God's Greatness'
That's the Ebo translation for Stratford's Tobe Umerah, who is doing great things in the classroom and on the football field
September 29, 2017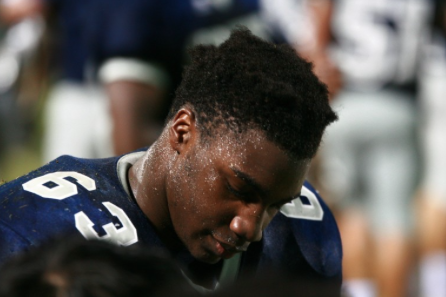 Entering his eighth-grade year, Tobe Chukwu Umerah, whose name translates to "God's Greatness," had never played football.
In fact, he didn't even know the rules of the game. Or how to put on his uniform.
Having parents from Nigeria, Tobe was never pushed to play sports.
Yet, in four short years, Umerah has become a standout defensive player in Stratford's graduating class of 2018.
His name is Ebo name is from a tribe in Nigeria, located in Western Africa. Translated, it means "God's Greatness."
A four-star defensive end, Tobe is ranked 277th in the nation's top 300 players, and is a versatile athlete that can shift to nearly any position on defense.
Through the first four games this season, Umerah has already recorded a team high 32 tackles. He also has nine tackles for a loss and two sacks to lead the unbeaten Eagles into Friday night's showdown with Mount de Sales.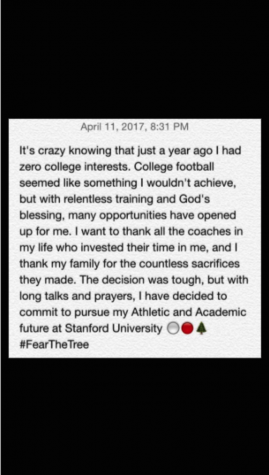 Off the field, Umerah brings the same level of effort to the classroom.  
Tobe boasts five Advanced Placement (AP) classes, a 3.8 GPA, and a 1310 on the SAT.
"As a student, it's great teaching Tobe just he has because a bunch of different interests,'' said defensive coordinator and AP Environmental teacher Mr. Ross Bridges. "It's very rare when you find such a good athlete [that is] so conscious in the classroom.''
Head football coach Mark Farriba described his talented senior as a humble and friendly person.
"He's come out of his shell a little bit and it's fun to be around,'' Coach Farriba said. "It's interesting because when I go see him in the lunch room or somewhere else he has a wide variety of friends. He's connected to a lot different groups."
In February, Georgia head football coach Kirby Smart created a buzz at Stratford  when he landed in a helicopter in the middle of the football field  on a Friday afternoon on a recruiting visit to see Tobe.
Two months later, Tobe fulfilled his college dream when he verbally committed to Stanford University in California.