McCook provides leadership for young Eaglettes
Stratford softball team advances in region tournament
October 4, 2017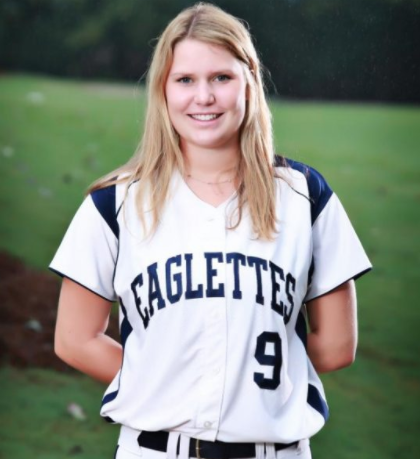 Evans McCook has been a varsity softball player since the eighth grade. Now in her senior season, she has been an incredible asset to the team, having played multiple positions throughout her softball career.
As the starting catcher this season, Evans has had a lot of responsibility. She does her best to keep the team motivated on and off the field.
"As a senior, I have tried to make sure that the team is always in good spirits and focused," she said.
The Eaglettes are playing in the region tournament this week. The team is being lead by five seniors, including Evans, whose experience can take them to state.
"Since I have been playing for Stratford for so long, I understand what it takes to make it far into the tournament. We just have to keep playing like we have been playing," Evans said.
The Eaglettes had their first region win on Monday against Washington-Wilkes. Evans had two RBI, contributing to the team's 4-1 win.
On Wednesday, the Eaglettes play Tattnall Square.
"Having to play Tattnall in the second round of region is going to be a good test to see how badly we want to win," Evans said. "They are a very good team with lots of experience, but if we go out there and play like we have shown we can, I think we will have a chance at beating them."
The team as a whole are aiming high and are expecting to do well this year.
"We went into this tournament with confidence,'' Evans said. "We know if we play our best and stay focused, we can make it far."