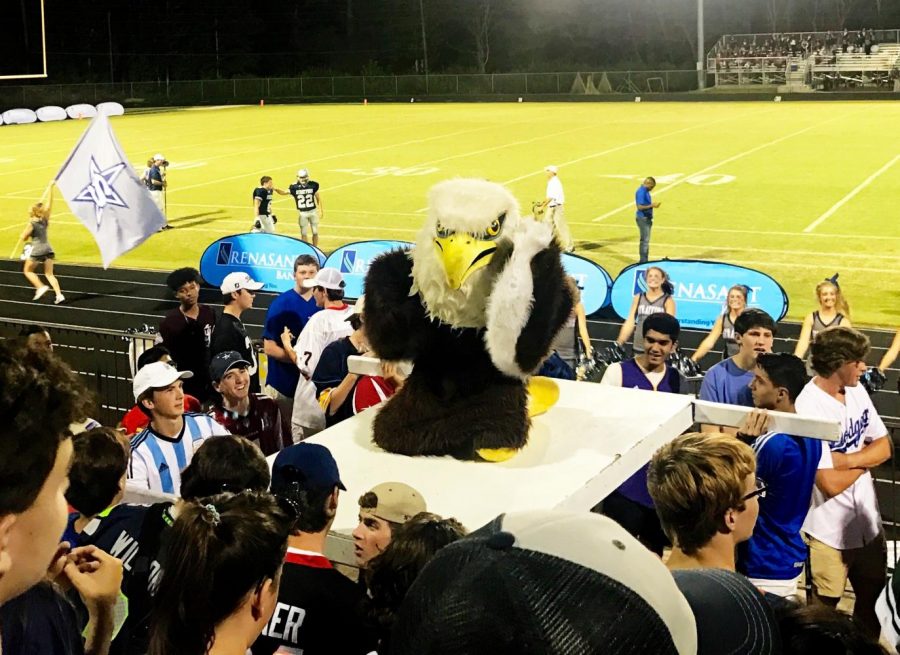 Life inside the Eagle
Freshman Nathan Dummitt suits up as Stratford's beloved mascot
October 5, 2017
Nathan Dummitt is one eagle with a lot of chicks.
"The suit is kind of a chick magnet for me,'' the Stratford Academy freshman said. "A lot more girls talk to me in the suit than at school."
This football season, Nathan is suiting up as the eagle.
At times, life in the costume can be hot and unbearable. He doesn't mind, though, even if the "job" doesn't pay anything.
"It's fun,'' he said. "I should be paying them to do this."
Nathan volunteered as the eagle, which is a major part of school spirit at football games and pep rallies. Junior Rush Patel played the role of the eagle last year.
"I wanted to get involved in Stratford spirit," Nathan said.  
He said one of his favorite part of being the eagle is interacting with the kids and the students.  He has to follow the rules as the eagle.
"A big thing is that you have to keep moving you have to  jog around and slap above your head," he said.
While he does have to deal with the heat and people trying to take his head off, it's all part of the Friday night fun.
Photos by Lolly McMahon and Sabina Ajjan, Gazebo Staff Writers)