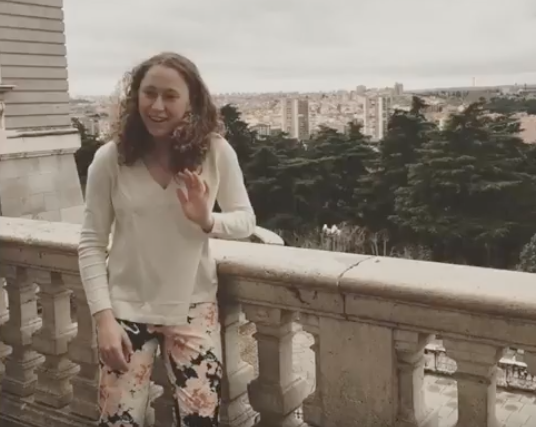 Carolynn Dromsky
Soccer, yearbook, watching movies and having a popular teacher for a mom
Whether she is playing soccer or watching movies with her friends, senior Carolynn Dromsky is always busy.
"Soccer takes up most of my time," said Carolynn. Her life revolves around soccer, whether it's for club or school. Carolynn has played soccer since she was five.
Carolynn joined the volleyball team her junior year, which has become one of her main three sports including track.
"I joined the Sweagles, it's so much fun," Carolynn said . She does crossfit with her soccer instructor, Coach Kate Blankenship.
"I haven't had her as my teacher, but it's nice to have her around" said Carolynn.
After coming to Stratford her 10th grade year, Carolynn and her mother, English teacher Dr. Ann Dromsky, have become a beloved part of the Stratford community.
"I like the memories of meeting all my friends," said Carolynn.
"I love Dr. (Frank) Katz, he's awesome," said Carolynn. After having him as a teacher for Science Fiction and AP Literature, Dr. Katz has become Carolynn's favorite teacher.
"Science fiction is probably one of my most favorite classes I have ever taken, even though it's an elective," said Carolynn. She took it her sophomore year at Stratford, which is where she first had Dr. Katz.
This her second year on the yearbook staff, where she is editor of the Senior Section. "It's something that I do everyday and I really like," Carolynn said.
"I'm a big geek, I love going to the movies," she said. he loves planning movies nights with her friends or going to the movie theater with them.
"I really enjoy reading on my own time or doing crafts," said Carolynn. She reads comic books and makes bullet planners whenever she has free time.