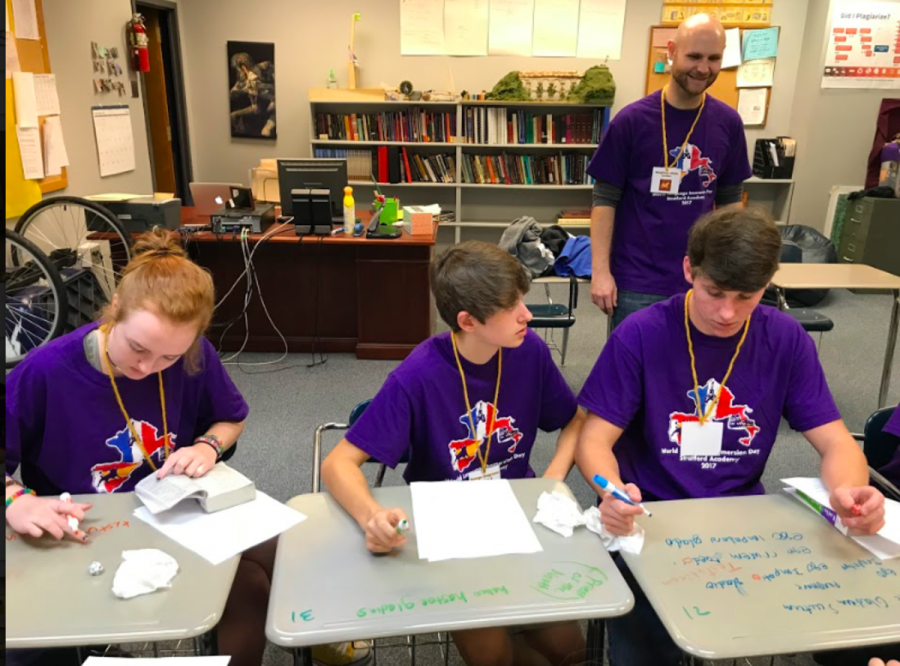 Gazebo Photo by Courtesy of Mrs. Lisa Merten
Students immerse in World Language Immersion Day
November 15, 2017
Spanish, French and Latin students came together on Stratford's campus on Saturday, Nov. 11 and committed to speaking in their language for three hours on Language Immersion Day.
Speaking in English resulted in a student losing the extra credit for their language class that they could receive from this activity.
There were 78 Stratford students, eight Stratford teachers and one teacher from Tattnall Square Academy who participated.
"I thought it was fun, and I liked the food and crafts," saod freshman Gabrielle Rader, a student in Mrs. Rachel Chabot's French class. "I also liked the shirts and how they had all the countries merged as one on them, and I like wearing tags."
The tags indicated which group you would be part of for the activities.
Students also learned how to cook foreign food, played games, and participated on a scavenger hunt across campus.
During the scavenger hunt, students scanned QR codes which gave them hints where the next QR code was located. Every time a team found one they took a picture at the location. The first team to find 10 was declared the winner. This taught teamwork in the target language.