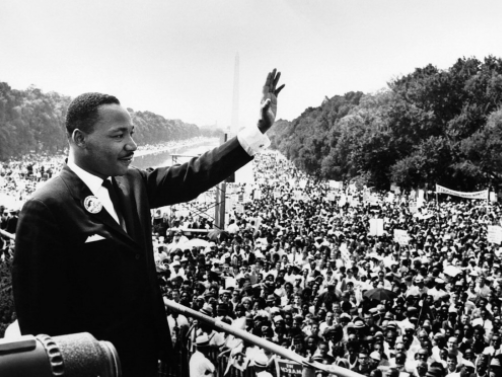 REMEMBERING THE DREAM
Faculty remembers Civil Rights leader Martin Luther King Jr.
January 14, 2018
One Stratford teacher remembers Martin Luther King Jr. for his words. Another recalls his activism.  And another respects his legacy and impact on society 50 years following his death.
"He was a great writer, as well as a great speaker. I think we forget that sometimes," English teacher Dr. Tom Lolis said.
Dr. Lolis said King is relevant today because of an increased awareness of discriminatory practices.
"It is more applicable now then I think it's been for many years," he said. "His letters from jail are very powerful. I think he is certainly more timely now, in terms of the need to read him compared to when I was in high school. When we would read King in high school, like a hundred years ago, my classmates would always say that this was a long time ago and no one has this mindset anymore. I think now we are more aware of the prevalence of discriminatory practices. It is more applicable now then I think it's been for many years."

History teacher Dr. Nicholas Ercole also spoke about King as an activist who changed the world.
"I'd say based on today's political climate we need to be rereading his texts," Dr. Ercole said. "It is more important now than ever."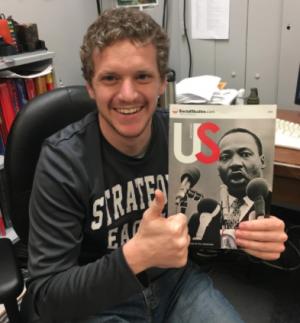 Middle school U.S. history teacher, Mr. Travis Morrison said he admires King's peaceful solutions to change.
"(He) was effective with his protesting and the way he did peaceful protesting trying to get the rights for all people in America, including African Americans, getting away from this whole segregation and separate but equal," Mr. Morrison said. "I loved the way he used his activism. He used it to join the people and their protest."
King continues to bring change in communities today. Guidance Counselor Ms. Jaqui Wilson explained what  people are doing today in his memory.
"There has been a movement lately, people are giving up their day off to go and give back and do things for other people in the spirit of Martin Luther King," she said. "There is a large group of students who are having a leadership summit in Atlanta. This happens specifically on this day to treat it as not just another holiday or a day off. Just because you have a day off and the banks are closed doesn't mean you should do nothing, do something for somebody else."