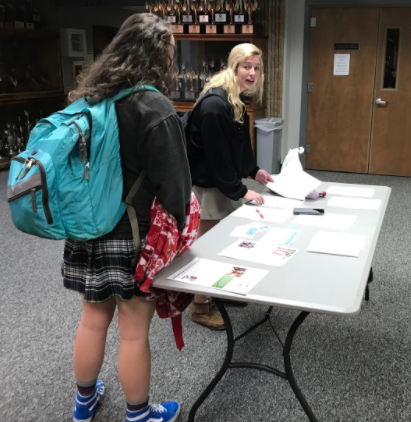 Gazebo Photo by Miller Cranford
'The blood you donate could save someone's life'
Key Club hosts annual Red Cross Blood Drive on Friday
February 1, 2018
Every year, the Key Club hosts a blood drive to support the Red Cross. This year's blood drive will be held this Friday, Feb. 2 in the Dorogy Room in the Science Building.
Students must be at least 16 years old to donate blood. About 35 people are signed up this year from Stratford. Members of the Key Club volunteer to help with the Blood Drive during different times of the day.
"But a lot of them end up not working out because they either don't meet the height/ weight requirement or they are slightly anemic," said senior Manasa Vemuri, who is in charge of the blood drive for the Key Club.
Manasa tried to donate blood last year but she couldn't because her hemoglobin level was too low.
"I think the think I like most about the blood drive is that in some small way we are able to give back to the people who might one day save us," she said.
The blood you donate could save someone's life.
"We never know what's going to happen, and one day that pint of blood I donate might be what somebody out there needs to get through surgery" Manasa said.
American Red Cross has provided a list of "10 Reasons to Give Blood."  The blood we donate will go to hospitals in Georgia.
Blood donors receive a cookie and some juice after donating, it is easy and convenient, you will weigh less, and you will ultimately be someone's hero.
Flyers at the sign-up table provide information about the blood donation, blood itself, and how you benefit other people by donating blood.