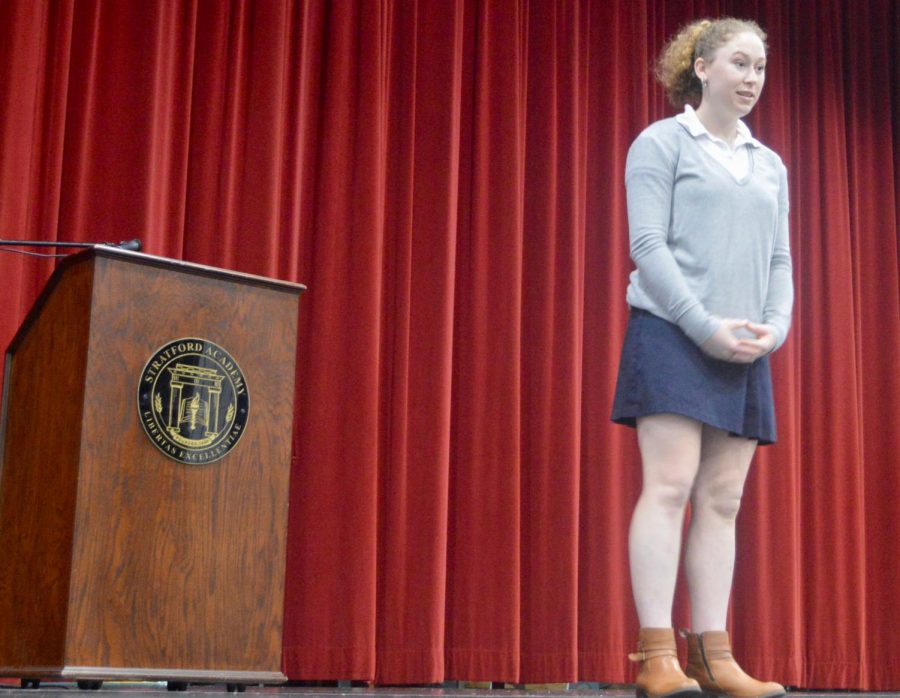 Gazebo Photo by Annika Brooks
Dromsky wins her argument in speech contest
Rushabh Patel is runner-up. Both advance to area competition
February 15, 2018
Carolynn Dromsky, a senior at Stratford, has been named winner of the school's Rotary Speech competition.
Junior Rushabh Patel was announced as the runner-up. Ellie Wangerin, a senior, also competed. Speeches were delivered during break on Monday in the Henry Tift Fine Arts Auditorium.
Carolynn wrote her speech about arguing and how people should listen to both sides before opposing it. She chose her topic after discussing it with her parents. Speeches were required to be between four and seven minutes.
It has been a busy week for Carolynn,  whose mother, Dr. Ann Dromsky, is an Upper School English teacher at Stratford. Last week, Carolynn took part in a school-wide assembly in The Grady, signing a national grant-in-aid in soccer with Virginia Commonwealth University.
Rushabh talked about "fake news." Ellie choose the topic of college and registration fees.
Carolynn will receive $75 for first place. Rushabh will receive $25. Both students advance to the area competition for $1,750 in prize money.