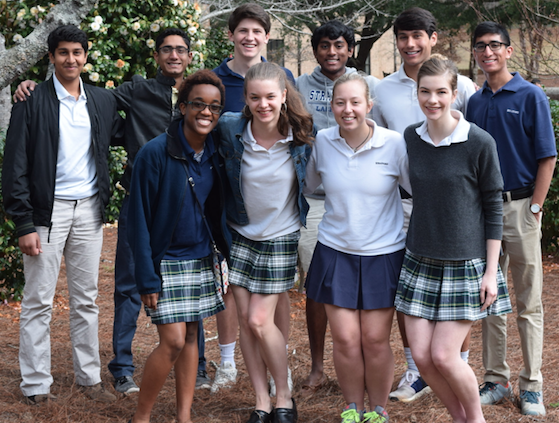 These Eagles are Golden
Ten Stratford seniors nominated for prestigious Golden Eagles awards
March 3, 2018
The Golden Eagles are an annual awards recognition by The (Macon) Telegraph to honor high school seniors for their scholastic achievements. Awards are presented in 12 categories, ranging from science and foreign language to citizenship.  
This year's ceremony marks the 41st celebration for which Stratford has selected representatives. Winners in each category will be presented a $1,000 scholarship and honorable mentions receive $300 in scholarship money.
All nominees from high schools in Middle Georgia will be interviewed by a panel of judges on Saturday, March 3 . The awards ceremony is in April at the Grand Opera House in downtown Macon.
Ellie Minette will represent Stratford in Drama. She  is president of the Drama Club and has worked tirelessly not only in school productions as a stage manager, set builder, and star, but also has dedicated her time to working with children's theater programs and tackling community theater productions.
"Seldom do I have a student whose love of theatre and gift for every aspect are as perfectly in sync as with Ellie," said Ms. Sylvia Haynie, the theatre director at Stratford. 
Murray McCormick, the nominee in Foreign Language, is an impressive coordinator and incredibly involved in aiding the French program as an intern and planning events as co-president of French Club.  Her love of French has translated outside the classroom into writing daily to French exchange students and two past experiences with the exchange program.
Katherine Hall has been nominated in the English Literature category by department chair Mrs. Michelle Fleming.
"She is an extraordinary young woman, a role model, and one of the brightest students I've taught in my 23-year career," Mrs. Fleming said.
Katherine is greatly invested in helping the Freedom School, a national project of the Children's Defense Fund. She coordinated the entire swimming program and worked with individuals and groups on their reading skills and confidence.
Nick Dorogy is Stratford's nominee in journalism. Nick, who is editor of The Gazebo, was nominated by journalism instructor Mr. Ed Grisamore.
"Nick is an exceptional young man. He is talented and dependable," Mr. Grisamore said. "His family instilled in him the value of hard work and respect for others. It comes as no surprise he is an Eagle Scout."
Nick is a fourth-year journalism student and has been instrumental in pioneering The Gazebo's weekly newscast, which made its debut in January.
Akshay Rannabhotu was nominated for the Golden Eagles in Technology by Mr. Mike Kelley.
"Akshay is a technical genius that makes Stratford's design program work," Mr. Kelley said. "I have yet to come across a piece of technology, from power tools, laser cutters, 3D printers, 3 scanners, software programs, and computerized devices of all kinds, that he can't figure out how to use and how to use more efficiently.   He has spent countless hours after school and during the summer helping to set up workspaces, program devices, test devices, and develop the projects and challenges that we give to students in the program.  Because of Akshay's leadership, we are now certified as part of the Stanford D-School's international network."
Mr. Kelley also cited Akshay's extensive work with Dr. Hyun of Mercer in the field of 3D printed prosthetic devices.
"Akshay worked on developing a prosthetic hand that can be produced for around $200-300 and realistically mimics a real hand," Mr. Kelley said. "He has brought the skills he has developed at Mercer back to help us better develop our 3D technologies, but more importantly, what Akshay has been working on will enable potentially thousands of people, who otherwise would not be able to afford such a device, the ability to regain the use of a hand."