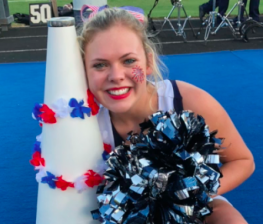 SENIOR SPOTLIGHT: Caroline Cole
Caroline Cole has been at Stratford since fourth grade. Before coming to The Academy, Caroline attended rival school, First Presbyterian Day School.
"Most people don't know, but I went to FPD before [Stratford], so it's kind of funny when we play FPD in football because I see some of my old friends and now I go to Stratford, so Go Eagles!" she said.
Caroline is extremely involved at school. She is a Varsity Cheerleader, and she also did JV Cheerleading and JV basketball. She is a member of the Key Club, Spanish Club, Pep Club, and French Club. This year, Caroline is the president of SALSA, Students Advocating Life (against) Substance Abuse.
She said Pep Club and Key Club are her favorites because "they are two of the most exciting ones where you are really involved.''
Caroline feels very strongly about the changes in the lunchroom this year.
"I like the old FLIK better because Chef Josh was amazing, and I like the FLIK cookies from last year because they were so much better than this year's,'' she said.
There are many aspects of Stratford that Caroline will miss after she graduates. She said she will be sad to leave both her close friends and the people in her class as a whole. She will also miss football on Friday nights, pep rallies, and cheering on the Eagles.
Caroline said it will be sad not seeing some of her favorite teachers every day when she is in college. Her favorite teacher at Stratford is English teacher, Mrs. Michelle Fleming.
"My favorite teacher is Mrs. Fleming. She's my homeroom teacher and she's kind of like a mom. We call her 'homeroom mom.' She also taught me Junior English."
Caroline has made many memories at Stratford. Some of her best memories are from Cheerleading and Friday nights. She has had embarrassing moments she will remember forever running the flag out in front of the football players at games.
"Some of the funny memories are running the flag out because you never know if you're going to get trampled or not, and I almost did, so that was really funny and also embarrassing,'' she said. "If I would've fallen, I don't know what would've happened."
Caroline's favorite memory is from her eighth grade year. It was the first time Stratford played FPD after Stratford  switched into the GHSA, and the game was at FPD.
"There were so many people there, it was a white out, and we won,'' she said. "Flour was all in my hair and we were all really exciting and jumping up and down."
Caroline has big plans for life after she graduates. She hopes to attend Mercer University, then go to medical school to pursue a career in Radiology or as a surgeon. After college, Caroline sees herself living and working in Macon.
"If I could have any job, I'd probably want to be a surgeon, but I don't really know what type of surgeon. Maybe a neurosurgeon like Derek Shepherd,'' she said. "Hopefully [I'll be] dating someone or maybe (I'll be) married. Hopefully married!"