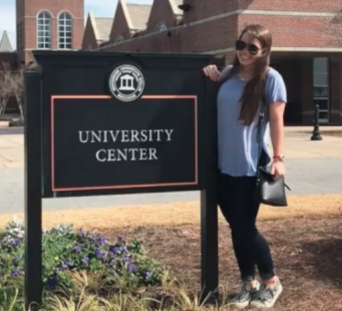 SENIOR SPOTLIGHT: Ashlin Jackson
You may know Ashlin Jackson as the girl behind the camera.
But what you do not know is she plays three varsity sports and was honored with the Murray Ashley Nixon Memorial Scholarship, which is given to the student that has a diligent approach to academic responsibilities, eager and unselfish to participate in Stratford activities, joyfully willing to contribute to all classes, and lastly encouraging and generous with her talents to all.
Ashlin came to Stratford in the eighth grade. She has felt at home here at Stratford with class retreats freshman through senior year she said.
"The thing I'll probably miss most about Stratford are my teams and especially seeing my friends every day," she said.
Ashlin is very busy with track, golf, softball, and interning for Mrs. Terry Sowell,  the assistant athletic director of media relations and sports information, director of Camp Eagle, and SISL director.
"My No. 1  school I want to go to is Mercer University here in Macon," she said.  
She plans on majoring in biochemistry and molecular science. She hopes to go into pre-dentistry or the medical field.