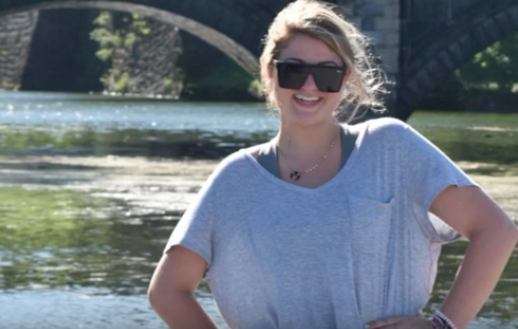 SENIOR SPOTLIGHT: Kaitlyn Neel
Even though it's hard to spike Kaitlyn Neel's interest in writing an English paper, she had spiked many successful balls this year for Stratford's Varsity volleyball team.
Kaitlyn has attended Stratford for 13 years. Her most influential teachers are Upper School Journalism Teacher, Mr. Ed Grisamore, Upper School Math Teachers, Mr. Bobby Stecher and Mr. Griff Ethridge, Upper School History Teacher, Mr. Stephen O'Hara(Kaitlyn's celebrity crush), Upper School English Teacher, Mrs. Michelle Fleming, and Upper School Science Teacher, Mrs. Lindsey Spillers. One of her favorite classes has been AP English with Mrs. Fleming,
"Even though she made us write so many papers!" Kaitlyn said.
Kaitlyn loves coming to school to see her friends and favorite teachers. But, she also enjoys coming to lunch and seeing a bowl of FLIK Hot Banana Pudding, just waiting to be eaten.
Kaitlyn is involved in Pep Club, Key Club, Ecology Club, Classics Club, Girl Talk, and ADL and is an editor on The Gazebo staff.
Apart from track and tennis, Kaitlyn's true passion is volleyball. She has played four years on the varsity team, and plays club volleyball outside of Stratford. Kaitlyn hopes to continue playing club volleyball in college and play Intramural volleyball, as well.
In college, Kaitlyn hopes to major in professional flight. She's applied to Auburn University, University of Georgia, and Georgia Tech, where her brother, Hall Neel, currently attends.
Kaitlyn looks forward to the independence of college."I've always been an independent person,"  she said.
Kaitlyn admires her mother and father most in life. "They both do everything for me," she said.
Kaitlyn's advice for rising seniors is to star on applications and scholarships early. She warns that deadlines will sneak up on you.
Kaitlyn will miss her friends, FLIK food, and her favorite teachers most when she leaves Stratford.
"Teachers are something Stratford has that are really special," she said.