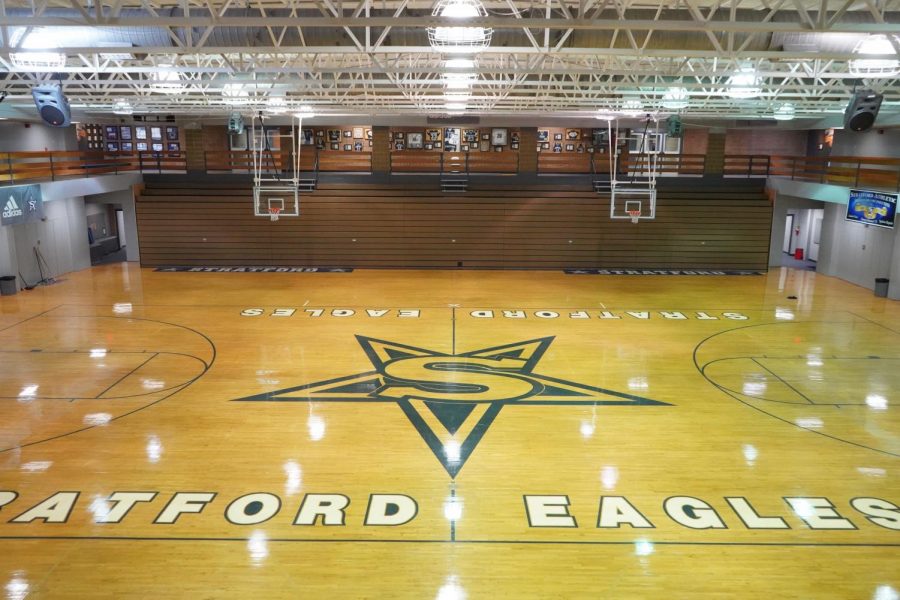 The Grady
What is filled with yellow daffodils, consumed with pep, where legacies are remembered, and has grandparents filled with joy?
The Grady gymnasium.
The Grady gym  is more than just a hardwood floor with six basketball goals and 1600 seats. It is where the Stratford hall of fame is held every year. This gym holds the sweet singing of kids on Grandparents Day. The Grady holds the end of the year yearbook show along with athletic scholarship signing days. And don't forget it is the home of the Eaglettes basketball team who has won four straight region championships, and the Eagles basketball team, who won the 2014 State championship.
The Grady gymnasium is named after long time Eagle Grady Smith. The Stratford gym was named the Grady on December 6, 2013. Grady Smith  is now the Athletic Director Emeritus. Before this, he was named the Athletic Director in 1977 and served until 2013.
Grady Smith has coached almost everything at Stratford. From three state championships and three  runner-up state championships in 20 years of coaching the boys basketball team, to coaching the girls basketball team for 10 years and winning four state championships, to 10 state championships in golf that he coached for 34 years, to three state championships in slow pitch softball that he coached for 18 years.
This gymnasium has hosted many events that celebrate life and legacy. This past November the Grady held a celebration of life service for long time Stratford Custodian Prentice Robinson. Robinson served Stratford for over 40 years. The Grady also held a remembrance service for long time Stratford coach John Paul Gaddy in July of 2014. This service celebrated the life and legacy of a Coach who only knew the way of excellence.
The Grady holds more than just athletic events It holds the annual Grandparents Day program. This year, the Grandparents Day program held over 400 chairs for all who wanted to attend.
The Grady gymnasium is more than just a gym that holds 1600 seats and more than six basketball goals. It holds the remembrance of life and legacy of longtime Stratford greats. This gym holds the memories of great basketball games, but also the memories of family and unity. This gym is more than a tan colored hardwood floor, it is where tradition meets excellence.