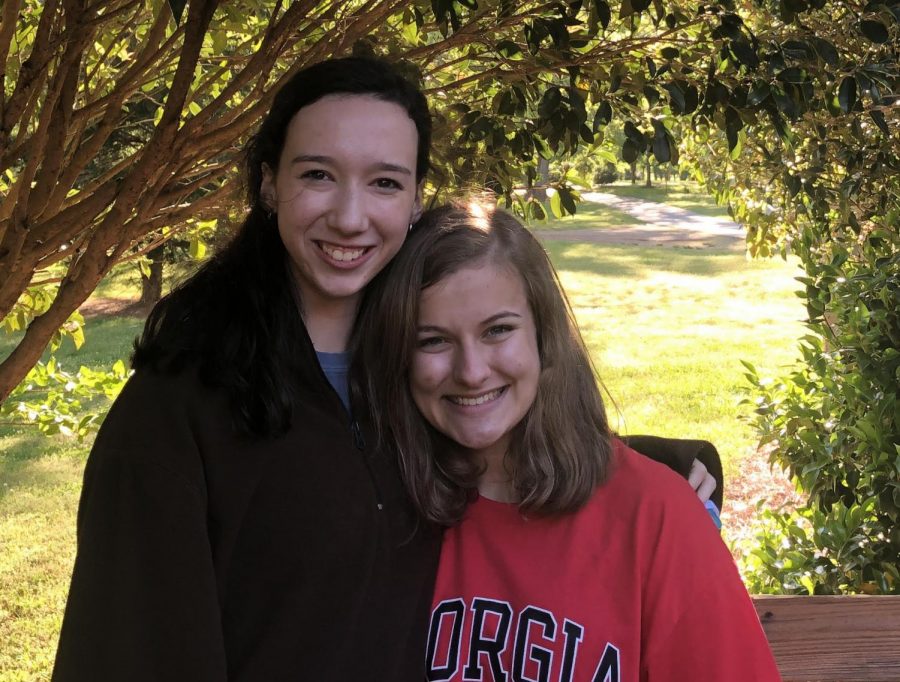 McKay Powers
Katie Beth: best friend, rides everywhere, food stops, ice cream, movies, lotta talking, Ken Bone, chiweenie, fights that last 2 minutes, Pumpkin's favorite, Nanny McPhee, chicken legs, birthday presents, ice cream, friend advice, never go shoppin, Kitty fight, Coke icees/floats, Grey's Anatomy, Maine, loveies, hazuuhh, dee dee dee, vines, Subaru, power outages, Freddy's, Cynthia, Georgia Belle shrine, teacher struggles, Garden (jamming), more ice cream, your unfortunate hatred for the Beatles, white tux, bug fears, Ms. Dabney, roadside picture, crush that finally ended, yes ma'am, pot stickers, living in a van down by the river, my music vs. yours, Pretty Little liars, headband, pineapple pizza, your music vs. mine, height difference, so much ice cream, little fashionista, the fake snake in the car, waffle house at your service, that time you did younglife, that time you did dance, tap, I'm going to miss you so so so much I love you!!
Holland: Honor Council stares, seeing me in Nutcracker, lame, Belize memories, Pure barre companion, Ragtime, Waho after, puzzles, making my house look nicer during filming, Xmas lights downtown, sleepover, the streak, shueberts, snap group, funny face, Buffalo's trivia, suh-prise, cockroach story, hint of lime chips, never forget mustard, carrot raisin salad, cici fish (and lemon cake), 45 min wait at Olive Garden, part the seas, cool friends on the tennis team, matchington help, lacrosse supporters, spring break Europe, so many aesthetically pleasing pics, watching that lady checking her bag in the France airport, flan consumption pep talk, gladiator fight,
Molly G:, BRF, seeing me in Nutcracker, casita talks, the A+ that never happened, Ragtime, Waho after, puzzles, our lively study hall, all the times I believed your lies, Halloween color chart, being over everything everyday, fan bus life, running over old women in Chic-fil-a parking lot, conversation we overheard in Chic-fil-a, streak, sleepover, shueberts, therapy behavior, visit to Samford, Buffalo's trivia, hint of lime chips, 45 min wait at Olive Garden, photo shoots during study hall, shoot, crazy stories I probably shouldn't know, almost killing you during that left turn, old lady in the Chic-fil-a parking lot, ignoring stop signs
Molly and Holland: Carol Mathias Fan Club
Marta: real laugh, SAT scores, Belize memories, APES venting, AP STATS struggles, stressing about everything, troll in every part of speech, Buffalo's trivia, roommate rejection, visitation ride, Trixie love, the best cockroach story I will ever hear, dead fish by the creek, crying every time, Dylan quintal, eagles in the front, trolling you for surprise party, movies @ your house, when I threw up on you at school, tempurpedic, daily Snapchat reactions to life, matchington mansions, making me uncomfortable, Italian lighter, reaction to haircut, cool friends on the tennis team, the stolen turkey, Chloe is the worst person, I love queening with you. You'll always be the truest queen!
Sam: dance dinners, taking tons of pictures everywhere, queso and salsa,Nutcracker, baby conspiracy junior year, Samantha snacks, don't go in the men's room at the studio, BRF, cockroach, matchington mansion, queen, talking about anything and everything, senioritis, jazz giggles, finsta posts, English corner, never sleeping, date dilemmas, ohhhh, all the dance performances, constant hugs, how the turn tables, MGYB convo, love
Kaitlyn: Snapchat video of moi, potato soup, eating everyone's food in Belize, spelling problems, filming teleprompter, visitation ride, illegal substances, trolling me in the English game, speech impediment
Kailey: clever jokes, meme queen, Guy Fieri, my dogs, suh-prise, Kailey Bohan, hiccups
Zuna: Hugh Jackman, AP Euro cram sessions, study hall w/Mclain, more Hugh Jackman, your savage self, AP Bio, falling, Les Miserables, Zoe's Kitchen, AP French, that unfortunate crush, haircut, Metro Diner, Ro-Ro, the video proof of making out, spring break Europe, bearded videos, homeroom dilemmas, valentine cards, free WiFi
Carter: AP French, don't go in men's room at the studio, ugly stepsisters, MGYB
Kathryn: coloring book, Go Dawgs!, happy color, amerson chill time
Maggie: Terry, chickens in bathroom, Reilly
Vivian: movie dates, hugs, cutest
Alyssa: Econ buddy, laughing, Athens
Guinevere: best director, director gifts
Carson: peer mentor squad, barberitos (better), thuhhh scares
Stephen: barberitos (better), trivia crack, Bible trivia
Noah: endgame
Gracie: English companions, kale smell, ohhhhhhh, ohh myy goooddd
Hadley: bug spray and sweat shaving
Riley: escargots, basset hounds, Fanny packs
Abby: saturated fat song, relationship
Matt: Honor Council insanity
Grey: excusez-moi ooooooo, passive aggressiveness, petit enfant, l'addition s'il vous plaît
Ellen: a true comedian, flashing parisians, crackers/almonds on the streets of Paris, no merci
Sarah: best smelling hair, crackers/almonds on the streets of Paris, petit enfant
Annika: striped pants
AP Lit 5th period: the film, GroupMe fights, constantly laughing, best class ever
Stecher's Homeroom: the most unified homeroom ever
Travis: Nutcracker, ten hour first date, counting shoulders, barberito's unquestionable superiority, Amerson walks, Valentine's elephant, the sweetest playlist to ever exist, chicken mini Sadie's proposal, FaceTimes, Priscilla the immortal, sarcasm, Waffle House, freshmanese, Liam/Keean, bottle, Paul Blart Mall Cop, wholesome conversations, my sense of direction, Preston and Carsons' bday banners, killing you at wii sports, ok so basically, yard work at your grandparents', losing pentago, Marvel obsessed, Amerson picnic, bowling irl vs. on the wii, turkey is superior to ham, scheibe pictures, caveman ghost, missing you so hardcore over spring break, oui vs wi, exchange students bonding time, Bigfoot, Wesleyan the women's college, bullying me, prom king, endgame, all the laughs. Thank you for being you!