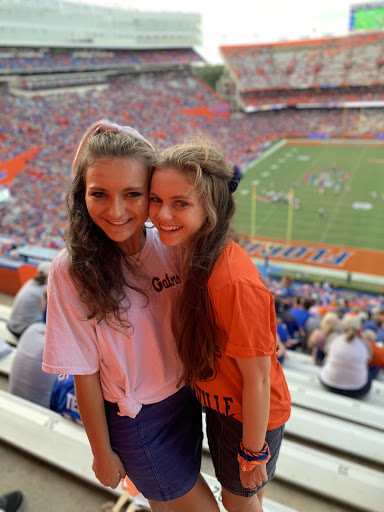 Caris Weinberg Best Of The Blogs
Not a football fan, but I had a fun time
Today is my favorite them of spirit week. I went all out. It's decade day! I knew I wanted to dress in 70's attire, so I planned to dress like Jackie from that 70's show. But, the puffer vest of my mom's that I wanted to wear had real fur on it. She did not want to risk me loosing that. So, I still kind of dressed like Jackie. I wore combat boots from DSW, bell bottoms from free people, a red turtle neck from Walmart, a queen t shirt from urban, and a pearlized hair clip from forever 21. I love my outfit today!
Saturday morning, I headed to Gainesville, Fla. I was on my way to my first SEC game. It was Saturday, September 28th and Florida was to play Towson.
I am not a huge football fan. During games, I never really know what's going on. In fact, I somehow did not know who Florida was playing before we got there. Whoops! I did not care much because I knew it would still be a good time.
Before the game, my family and I had a Red Robin lunch. After lunch, we took a shuttle from Oaks Mall to the game. We sat at the very top of the stadium, which was a great view. Even though in high school my mom was a majorette and in the band, my mom, like me, does not understand football that well.
We had a really fun time watching people. I loved to see orange and blue all over. Since the game was at four in the afternoon, only the beginning of it was hot. Florida won significantly.
I enjoyed watching the band, dancers, and cheerleaders. At the end of 3rd quarter, it was fun to sing Tom Petty's "I won't back down" with the rest of the stadium. My family and I took lots of photos. The game ended around 7:30 and we headed back to the shuttle that took us back to the mall.
It was a great experience. It was a really fun weekend and I can not wait to do it again.